McDonalds is coming to Banbridge!
More than two years after a planning application for a new drive-through restaurant was first submitted for the town and work is now underway.
It will be located in the car park at The Outlet retail village and bring a significant jobs boost to the town.
And the contract to build the new McDonalds has been awarded to the Portadown-based Turkington Construction.
Hard to believe, but the building will, in fact, be only the global chain's second new build restaurant in Northern Ireland since 2001.
Other McDonalds restaurants opened in the intervening years have relocated into existing premises or refurbished units.
The new Banbridge project will feature a two-lane drive-thru.
It will add to a growing number of new acquisitions at The Outlet.
Previously, Armagh I exclusively revealed that Home Bargains had been given planning approval for a major new store at the venue.
Construction work on the new McDonalds is underway and the awarding of the contract will come as a major boost for the family-owned County Armagh firm.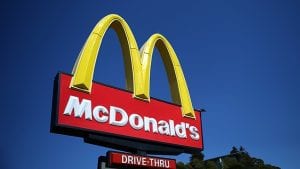 Turkington Construction recently completed the Costa Coffee premises at the Spires Retail Park.
It also constructed the development at Alexander Road in Armagh for Tesco before the retailer pulled the plug on its plan to open in the city.
It has now been divided into four retail units and a drive-thru restaurant for let.
McDonalds, meanwhile, remains interested in Armagh and news of the Banbridge plan will add further speculation that a move to the city could be expected sometime this year.
We revealed late last year that McDonalds representatives had looked at a site at Ogle Street as part of its acquisition process.
The Railway Retail Park, sources indicate, remains the favourite possible venue for a future Armagh restaurant at this time.
The new Banbridge McDonalds, meanwhile, will be constructed over the next number of months.
If all goes according to plan, it is scheduled for completion and due to open in July of this year.
Read more news:
Patient doused with raw sewage after pipe leaks onto hospital bed
Tragedy averted as three young children rescued from factory fire started 'for a laugh'
Ram-raiders use vehicle in attempt to rip cash machine from wall
Major public realm work could transform area around Armagh's historic Mall
Residents urged to be vigilant as men selling knives 'acting suspiciously'
Two cars involved in county Armagh road collision
Concerns for county Armagh man missing almost two weeks
Two shop fronts rammed in early morning crime spree
Sign Up To Our Newsletter