A state-of-the-art BMX track in Armagh which has failed to open well over a year after work was completed could be open for use imminently, Armagh I can confirm.
The development – alongside the Epicentre at Lisanally Lane in the city – was built at a cost close to £500,000.
But as Armagh I recently revealed, it remained out of action for many months after it proved impossible to find the team needed to man it.
The BMX track was given planning approval, despite a number of local objections, back in the summer of 2018.
Work started and a fantastic modern track was created.
It was to have been used by local schools and youth groups under the auspices of the Education Authority, as well as being made available to the general public.
However, repeated attempts – three to be precise – to recruit the staff needed proved fruitless.
But Armagh I can reveal that all could be back on track.
Fresh efforts are now going on behind the scenes which could see the BMX track 'up and running' within the next number of months, working in partnership with Cycle Ireland and Cycle Ulster, and subject to relaxation of Covid-19 restrictions.
Speaking to Armagh I, chairman of Cycle Ulster, Tommy McCague said: "We have 7,500 members and it was brought to our attention by the BMX commission that this track was in Armagh.
"So we contacted the Education Authority and we had a meeting with them, we went through the different programmes we do, Sprocket Rockets, Fundamentals, Bike for Life, different skills we can teach."
Cycling Ulster is a branch of Cycling Ireland and in total it consists of 30,000 members.
Mr McCague added: "The meeting was very positive, the outcome of it was that we would develop a partnership agreement that is yet to be signed, but we have agreed in principle that we would train the Education Authority staff that want to use the facility for youth groups.
"This was instigated by ourselves through Mickey Brady, the MP for Sinn Fein in the area, who made a request to the top of the tree in the Education Authority."
The short term goal is to get access to the facility and train up Education Authority staff, while the long term would be to start running courses.
These would be similar to those at other BMX tracks in Ulster, such as; Bike for Life, BMX fundamentals, Sprocket Rockets.
Said Mr McCague: "We also run Lisburn's facility; if you look at what they are doing, training from under six right up to senior level, and that would be the long term goal.
"For us it is about getting people on bikes. It is a shame that this facility at half a million quid is sitting there idle and it is only down to our BMX commission it was brought to our attention."
However, Mr McCague was quick to point out that this has not happened overnight, adding: "We have been working on this behind the scenes for maybe nine months now.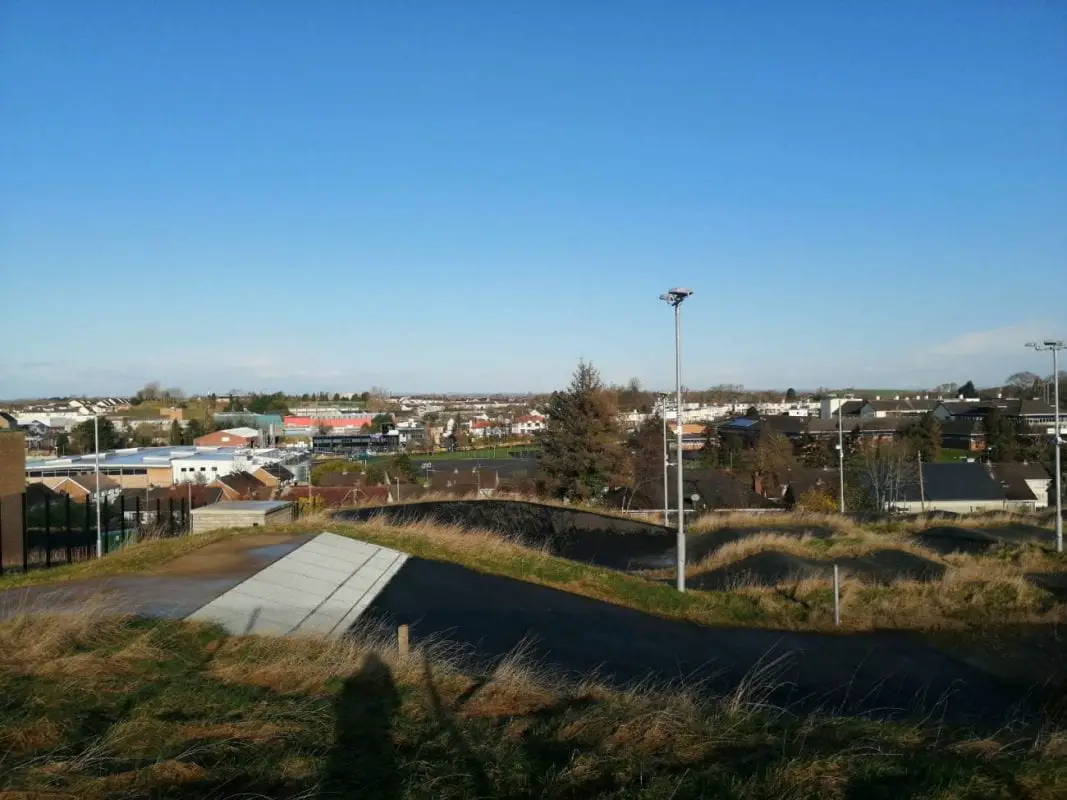 "It is a great news but we did not want to come out publicly with it until we had an agreement signed. There has been an agreement in principle with a few things to sort.
"Then with the coronavirus everything has gone a bit slow but we still envisage beginning to train people by the end of this year and begin working in conjunction with the Education Authority."
Mr McCague revealed the main people behind the plans were Gary Lavery, the Membership Development Officer, along with Dylan Lyness of the BMX commission.
"There are 16 clubs in the ABC area, it should be fit for them to avail of this and it is all about getting people on bikes, especially young people.
"We would like to thank our local councillors, MLAs and MP who assisted in this. This is a community initiative and this is for people from every part of the community."
Meanwhile, Eamonn Wyer, from BMX Ireland, who helped design the track in Armagh, said now is a "golden opportunity to keep people cycling for the rest of their lives".
"This coronavirus has created another cycling boom; families are out cycling because there are no cars on the roads, but when they cars return they are going to need somewhere to go," he said.
On the design of Armagh's track, Mr Wyer said it was built in a way that a five-year-old could make it around that track in five minutes!
However, he was shocked to learn the track has yet to be used in earnest.
"Getting a track built is about the hardest thing to do," he explained. "You need three things; you have to have need, the land, and someone to finance it.
"It is very rare that you are going to have all three in the same place; now in Armagh they had the finance and the land, but they had no one to run it.
"There is a cycling club in Armagh but that is like saying to a soccer player 'here I want you to run a GAA club', it's just not going to happen.
"We have a lot of great coaches in Ireland, I mean the Belfast club has a man who won coach of the year in the UK. There is a lot of people nearby who will help with training and coaching.
"It is not difficult, you rock up, open the gates, all you have to do is make sure everyone is riding in the same direction, that they are wearing the right gear, that no one is doing something stupid or using foul language or bullying."
Sign Up To Our Newsletter