A well-planned and orchestrated attack on a ATM machine in Richhill earlier this week took less than 60 seconds to carry out, a court has heard.
Sean-Paul Donnelly, of Navan Street in Armagh, appeared in Newry Magistrates' Court, via videolink from Laganside Custody Suite, charged with a number of offences including theft, criminal damage, arson, possession of a firearm without a licence and possession of a firearm in suspicious circumstances.
Opposing bail, Pat Vernor of the Organised Crime Unit in Belfast, said he believed the 22-year-old was "a committed member of an organised crime gang".
Mr Vernor, outlining the facts, told the court that at around 4.45am on Tuesday morning (December 20) police received a report of an attack alarm at the ATM machine at the Fruitfield Super Valu, which is located on the Portadown Road.
The court heard how the digger was stolen from across the road, driven right across the forecourt and smashed into the ATM annex, which had been specially built following an attack in 2020.
The operation took less than 60 seconds.
Said Mr Vernor: "They've driven up and smashed the building to bits. A white Ford Transit has pulled up alongside, which appears to be pulling an Ifor Williams styled large trailer. The digger is then used and it was with some expertise that the ATM is just scooped up and placed into the back of the trailer.
"The driver of the Ford Transit exits the vehicle, goes around to the digger, sets it on fire and they make good their escape from the forecourt. This, quite literally, happened within the space of 60 seconds, giving police some indication that this was the actions of a professional group that know what they're at."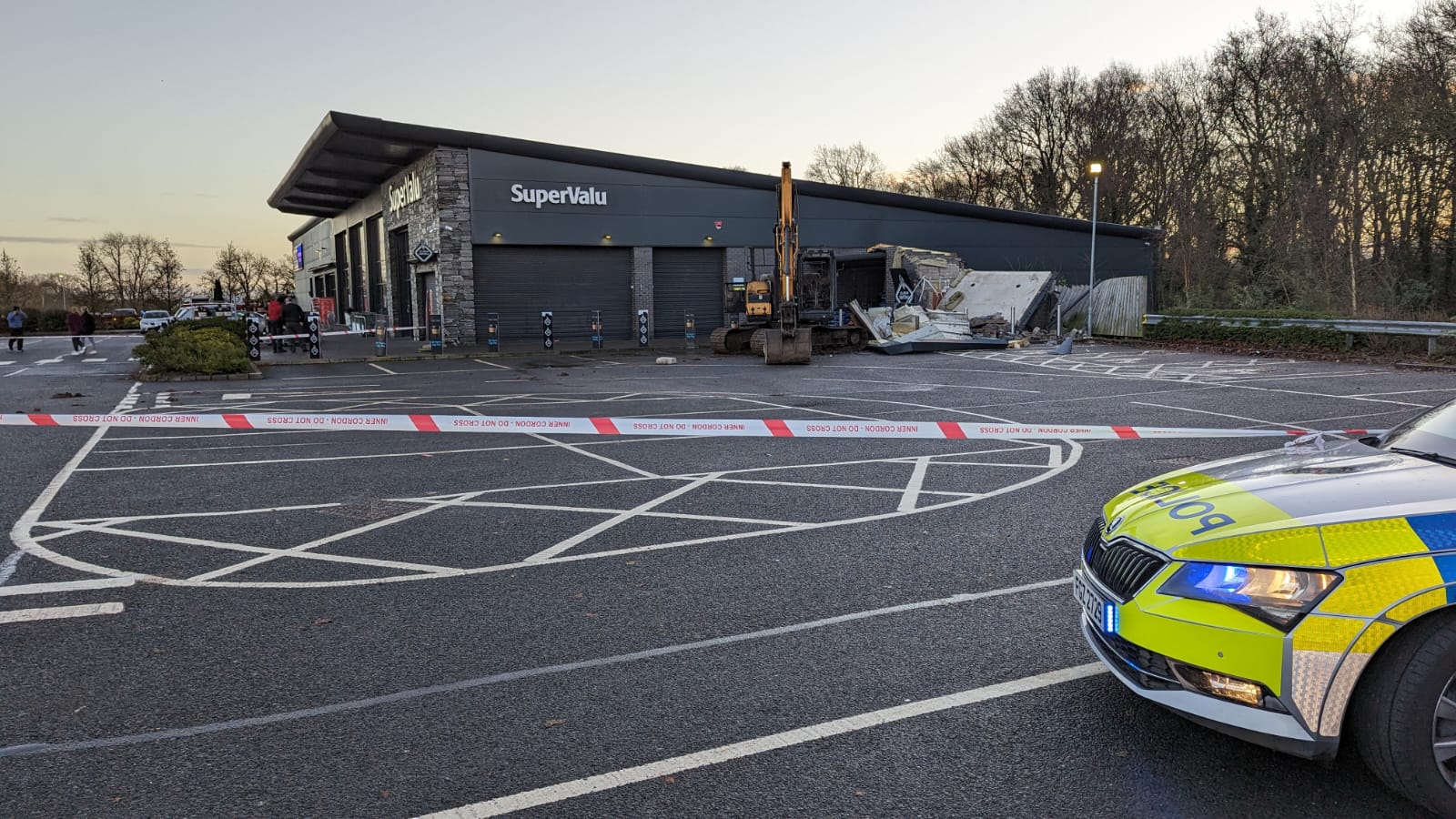 The ATM machine was fitted with a tracker and police from the armed response unit were guided into the vicinity of the Moy Road as a result.
Upon arrival armed units disturbed two males in the process of angle grinding the ATM machine. They made off on foot into the fields when they spotted the police.
Further enquiries found a black BMW located at Grange Road in Armagh. Bleach was found inside, as well as a receipt for top-up payment to Firmus gas.
The account was checked and came back as the confirmed home address of Donnelly – Navan Street, Armagh. It was dated, December 19 – less than 24 hours before ATM incident.
Mr Vernor said the site at which the ATM and Ford Transit were recovered was connected to defendant through his grandparents.
Searches were carried out at Donnelly's house in Armagh, as well as his mum's in another location in the city.
In Donnelly's home, police found a receipt for the BMW X5, with the same registration, that had been purchased in September 2022.
Mr Vernor said: "During the course of his interview, [Donnelly] indicated that he had sold this vehicle a week prior to the incident. He was unable to tell us who this person was. When we conducted the search of the vehicle we've located a Firmus receipt linked to that property, so it's the police position that although he's widely answered some questions we believe he's been deceitful."
He added: "Further to this, we then located a key to what we believe to be a Ford vehicle. In interview the defendant has indicated that it was for either a recovery lorry or tipper lorry and he said that he doesn't have it anymore. We took that key to the Ford Transit which has been stored at the police station and it was the key for that vehicle [believed to be involved in the ATM incident].
"That key was located in the kitchen of the property…which is where we find this imitation handgun.
"It appears to be some sort of a gas-powered BB gun, but it was hidden behind a microwave which is what we find suspicious. The property itself has the capacity to be barricaded with what appears to be a 3-4 inch by 4 inch steel beam across the front door. Under his pillow there was a hatchet. At the sofa there was a telescopic baton. So [we have] serious concerns about the background to this young individual."
Mr Vernor said there was also a recently arrived package which contained a T-8000 bug tracker sweeping device which the investigation team believe "has been bought by the defendant for the purposes of scanning the ATMs or vehicles".
Mr Vernor said that police, at this stage, "believe that the defendant is a committed member of an organised crime gang".
Objecting to bail, Mr Vernor alluded to the fact a second male had not yet been arrested and that Donnelly, if released, "has the capacity to debrief".
Added Mr Vernor: "This incident would have taken careful planning and preparation; vehicles were stolen and used in a very professional manner. If it hadn't been for the fact that there was a tracker present, they more than likely would have got away with this this incident."
John McAtamney, defending, said his client has a limited record restricted to motoring offences and that the evidence against him "is not direct evidence".
"There's no evidence that he was at the scene or involved in taking of this ATM. It is my submission that the evidence is circumstantial and that he is linked to vehicles that were used potentially by others in relation to this matter."
In objecting to bail, District judge Eamon King stated he had "no doubt that this was a well organised and executed operation".
Donnelly was remanded into custody to appear again before Armagh magistrates' Court on Tuesday, January 17.
Sign Up To Our Newsletter