The Market Place Theatre in Armagh is kicking off the festive season at the start of December with two fantastic Christmas themed dramas.
Dyad Productions, creators of 'Austen's Women', 'I, Elizabeth', 'The Diaries Of Adam And Eve' and 'Female Gothic', are bringing their latest production, 'Christmas Gothic' to The Market Place Theatre in Armagh. Christmas is a time to remember the past, celebrate the present, and look to the future; a time of feasts and festivities; of holly and mistletoe; a time of visits and visitations.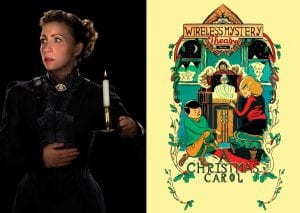 A time of ghosts. Come in from the cold and enter into the Christmas spirit as a dark and spectral woman tells haunting tales of the festive season, lighting a candle to the frailties of human nature and illuminating the cold and chilling depths of the bleak, wintry dark.
Dyad Productions resurrects a Victorian tradition by presenting three seasonal tales of terror to scintillate the gooseflesh for dark Christmas nights. 'Christmas Gothic' will be staged on Friday 4th December at 8pm. Tickets are priced £13 and £11 (concession).
Then on Friday 11th December, book yourself in for a merry little Christmas with Wireless Mystery Theatre's 'A Christmas Carol'. With live music, hand cranked sound effects and authentic '40s radio jingles and Christmas commercials, this is the perennially favourite tale of Ebeneezer Scrooge and his spectral Christmas visitors, with a twist – its set in a '40's radio studio!
A real heart-warming Christmas treat with a quirky vintage style. 'A Christmas Carol' will be staged on Friday 11th December at 8pm. Tickets are priced £14 and £12 (concession).
Details of all events can be found online at www.marketplacearmagh.com, and tickets can be booked by contacting the Box Office on [028] 3752 1821. And to keep up-to-date with the latest news at the Market Place Theatre, you can follow us on Facebook (www.facebook.com/marketplacearmagh) and Twitter (www.twitter.com/mptarmagh) where you will find all the latest information, special offers and video previews.
Read more news:
Countdown to Christmas is on as Georgian Day plans are unwrapped!
Lord Mayor of ABC council opens Books of Condolence
Daisy Hill cuts: 'Same trick pulled on us at the Downe Hospital'
Cross-border policing corridor to target criminal gangs and dissidents
McDonalds forced to pull the plug early after fighting breaks out
Pictures show just how lucky man was following co Armagh accident
Sign Up To Our Newsletter