Armagh is fast becoming a hot-bed of food and drink; and one local artisan is about to launch a brand new gin range inspired by the Orchard county.
The Woodlab Distillery (literally The Laboratory in the Woods) in Benburb produced its first spirits in June of this year and will showcase their three new gin products at a glitzy launch party in Armagh city later this month.
The Symphonia Spirits range is named after the method of production, where a series of flavour notes are produced by bespoke distillation of individual botanicals; these notes are then composed into a series of symphonies.
And it is the brainchild of Ulrich (Ric) Dyer. Ric has a background in chemistry and he spent nearly thirty years in the pharmaceutical industry, discovering new medicines.
However, two years ago Ric decided to do something different and apply his skills and knowledge to his other passion – food and drink.
"I had been following the rise of the craft gin industry as an interested consumer for a couple of years but not really considered doing it myself until my wife Fiona said one day matter-of-factly, 'you could do that'," he explained.
"It became very clear, very quickly that if I was going to enter this crowded market I had to do something to stand out.
"There were two areas where I felt I could make a difference, one was to use my scientific expertise and the second was to showcase the unique micro-climate here in this part of Northern Ireland.
"I could clearly see a parallel with the wine industry, where vineyards exploit the terroir of their region to produce a specific style of wine and the rise of modern winemakers who have adopted scientific processes and equipment to get the very best out of their grapes."
So what gins has Ric produced?
Ric set about recipe creation and over the course of the last eighteen months has created three spirits: a classic dry gin; an apple gin; and a fruit cup.
Symphonia No.1 – Classic Dry Gin.In addition to the classic botanicals of juniper, coriander seed and angelica this dry gin contains fresh herbs and flowers from the garden including rosemary, basil, dandelion and rose.
It makes for a lovely Gin and Tonic or alternatively the herbal notes work well in other cocktails such as a Negroni or a dry martini.
Symphonia No.2 – Apple Gin. Apple flavour was always going to feature in any gin Ric produced because of the location. The area around Woodlab distillery is known as the Orchard of Ireland, and is particularly famous for the forty million or so Bramley apples it produces every year.
Ric said: "I wanted to capture the crisp taste of green apple not the sweet taste of a dessert apple, however despite many efforts to distil this flavour I failed. Instead, I adopted the strategy of adding the apple flavour post distillation by adding freshly pressed local Bramley apple juice."
The apple juice softens the gin to make it great for sipping neat on the rocks as you would a Calvados, or as a really interesting twist on a gin and tonic where the crisp apple taste shines through. It is also perfect in a green apple martini.
Symphonia No.3. is a fruit cup which is similar to the popular pink gins appearing on the market but at a lower strength of 25% abv. "The fruit cup was inspired by having loads of raspberries and strawberries picked from the garden filling up the freezer " Ric explained.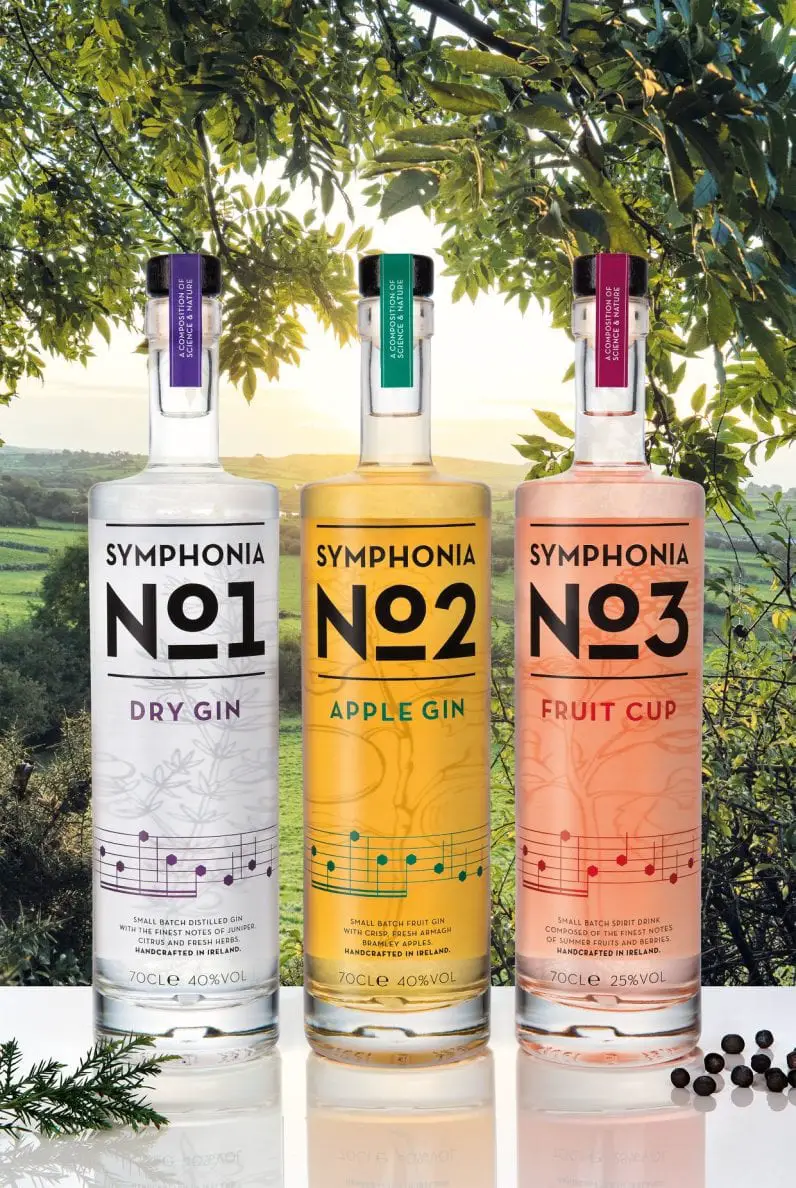 The fruit cup contains the same botanicals as a gin, then distilled summer fruits flavours were added and raspberry juice to give it a lovely blush colour.
The 25% abv. make this perfect for summer sipping as a punch with ice, lemonade and more summer fruits, or as a Sunny 75, a take on a French 75, where a measure of No.3 is added to a champagne flute and topped with prosecco and a raspberry garnish.
There are plenty of ideas for new products in the future. Symphonias No.4, 5 and 6 could be just around the corner, but for now, Ric is intent on seeing how the first three go.
Uluru will be hosting the official launch party on Friday, September 28. Tickets are on sale now and can be purchased in the restaurant and off-licence. Tickets are £25 or £40 per couple and will include: prosecco on arrival; canapes to compliment your gin; live cocktail demo by Uluru's very own mixologist and music by Mary O'Neill.
Ric will also have a stall showcasing his gins at this weekend's Food and Cider Festival in Armagh.
To find out more about the range of Symphonia gin, check out the website here: www.symphoniagin.com
Sign Up To Our Newsletter