The Met Office have released details confirming when and where the snow will hit over the next day or two…and as expected county Armagh will be hit.
Over the next 24 hours it will turn cold and windy as a Polar maritime airmass, with its origins over northern Canada, moves into northern Scotland and then south across the whole of the UK.
The cold airmass will bring much lower temperatures to all parts by Thursday and biting northwesterly winds to the north.  Snow showers, gales and widespread overnight frosts will affect much of the UK.
National Severe Weather Warnings have been issued for wind and snow, with the heaviest and most frequent snow showers likely across northern and western Scotland, Northern Ireland and around Irish Sea coasts, but eastern coasts will also be affected at times later. There will be gales which could lead to temporary blizzard conditions as well as a risk of hail and thunder in some locations.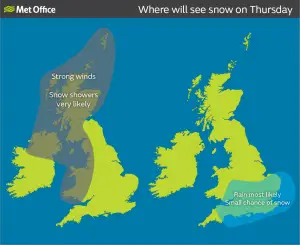 Although the south of the UK is likely to avoid the majority of the snow showers this area will see a spell of rain on Thursday, and there's a small chance that this rain could turn to sleet or snow.
Steve Ramsdale, Deputy Chief Meteorologist said: "Southern counties of England and Wales will see a spell of rain during Thursday, and there's a chance this could turn to sleet or snow, especially over hills later in the day. Forecasting snow is always challenging and there's often a fine line between whether it will rain or snow in a particular location depending on slight changes in air temperature. Keep an eye on the forecast and warnings for your area for the latest information."
Daytime temperatures are likely to be around 2 to 5 °Celsius, but the strong to gale force winds will make it feel much colder. Overnight, a frost will develop in most places with some severe frost likely where there is snow on the ground in the north. Temperatures could dip below -10 °Celsius over snow cover in rural areas.
Inland areas will be more sheltered and may escape any snowfall altogether, but it will still be cold.  At the moment it looks like the cold weather will last into the weekend though snow showers will become more isolated.
Read more news:
'Multiple children could have died' after car is struck outside Co Armagh school
Road resurfacing work due to get underway in Craigavon
Winter is coming! Co Armagh to be hit with snow later this week
Banbridge's famous Coach complex seeks approval for a new roof-top bar!
Huge £20m Newry housing development up for approval despite public outcry
Woman subjected to serious sexual assault in Co Armagh layby
Finn the dog held for €15,000 ransom has been destroyed, owners claim
All-Ireland winner sets sights on another title – but will things boil over in the kitchen?
Sign Up To Our Newsletter