Armagh Men's Shed excelled themselves this year when they raised £4,000 in a raffle in aid of the Southern Area Hospice.
Members would like to express sincere gratitude to all those who supported the fundraising and to the men who braved the weather to sit outside the various supermarkets selling tickets.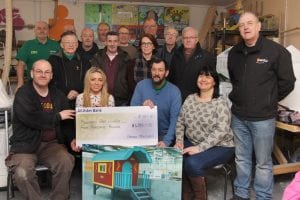 A spokesperson said: "We would also like to express our gratitude to the owners and management of the following businesses who supported our efforts be allowing us to sell tickets at their premises. JD Hunter & Co, Markethill, Mc Gleenans Centra, Keady, Mc Anerneys Armagh, Whittes Spar Foodmarket Armagh, The Mall Shopping Centre Armagh Tom O'Kanes Armagh, Rice's Supermarket, Keady for their continued support, Rumour Café, Armagh, and The Quays Shopping Centre, Newry."
Leanne Redmond from SAH said the Hospice are delighted to be benefitting from this fantastic fundraiser and are very grateful to Armagh Men's Shed for their regular support for the Hospice.
"Over £6,000 is needed every day to keep the Southern Area Hospice going and it is fundraisers such as this which are a vital lifeline for us," said Leanne, who also thanked all those who supported the raffle and those who continue to support the important work of the Hospice.
The lucky winners were as follows: 1st prize- Edna Hall, 2nd Prize- Gerry Davidson, 3rd Prize-Michael Leonard, 4th Prize-Jimmy Joe Mc Kenna, 5th Prize Brenda Toal, 6th Prize Rose Quinn.
The Armagh Men's Shed is a friendly welcoming place for older men to meet, socialise and basically just have a bit of craic together. You can be assured of a warm welcome and the kettle is never off the boil. So if you have a bit of spare time on your hands call down and you will be guaranteed to find something of interest to you.
The Men's Shed is funded by the Big Lottery to deliver a five year programme aimed at supporting older men and improving their health and wellbeing. Activities in the shed are decided by the men and activities ongoing at the moment include Pottery, Art, Woodwork and of course the choir. New choir members are being sought as well as a few new musicians such as guitar players.
The choir is up and running for over a year now and achieved so much in that short space of time. They have sung at various civic receptions and churches across the district and have entertained at prestigious events such as World Disability Day, but the highlight has to be when they sang for the President of Ireland, Michael D O Higgins last year at the Irish Mensshed National Conference in Dublin.
The conference takes place in Belfast this year and the choir will also be prominent here, singing with a National Men's Shed from Australia. This is why there is a need to increase numbers so if you have a bit of a voice or a bit of music in you call down any Monday at 11am. For further details call 028 3752 8997 / 077 6381 8393.
Read more news:
South Armagh man dies after tragic boating accident in Australia
North/South Interconnector liasion officer appointed to work with landowners
School pays tribute to 'popular' former pupils tragically killed in accident
Sixty-five jobs to go at Benburb manufacturing company
Friends pay tribute to life-long pals Andrew and Mark after double road tragedy
Two teenagers tragically killed in early morning accident
Sign Up To Our Newsletter