A major retail development is being planned at Lonsdale Road in Armagh as part of a huge investment, Armagh I can exclusively reveal.
Almost 20 years after permission was given to develop the site on which B&M Bargains sits and fresh proposals – which would create new jobs and are estimated by Construction Information Services to cost in the region of £1.2 million – have come to the fore.
Originally Aldi, Poundstretcher and Iceland were to come to the prominent location with three stores being built.
However, only one, for Aldi, was completed and then, when it failed to move in, B&M Bargains later became the tenant.
Much of the site remains undeveloped but that could be about to change.
Now, if approved, Armagh's B&M Bargains store could be in line for a major extension as part of these ambitious proposals – estimated by CIS to cost in the region of £1.2 million – which would completely transform the Lonsdale Road site.
Gone will be 'informative' surround hiding a derelict plot of land from view of Lonsdale Road, with B&M tucked behind.
Instead, the plans would see the B&M Bargains store become one of the discount retailers biggest outlets in Northern Ireland.
Floor space would increase from just over 12,000 sq feet to close to 20,000 sq feet.
And in addition to that, there are plans to build a new coffee shop on site. And a third shop – for an as yet unspecified tenant – is also proposed.
The extension to B&M Bargains will be accommodated on the existing car parking area within the site.
The other two units will be to the Lonsdale Road side and to the rear of the existing church hall property. One will be up against the gable end of B&M Bargains with the other adjoining and overlooking Lonsdale Street – directly across from Armagh Courthouse.
Plans for the project have now been submitted to Armagh City, Banbridge and Craigavon Borough Council.
The proposal includes full provision for car parking, landscaping and all associated siteworks and access arrangements required.
The application has been lodged in the name of Huntley Developments Ltd.
The site is described specifically as "lands adjacent to College Street and Lonsdale Road and opposite No3 Rokeby Green, nos7-25 College Street and Armagh Court House, Armagh".
It is labelled on the submission as "vacant lands within Armagh central core", for which planning approval has previously been given almost 20 years ago for retail purposes.
A transport survey indicates 84 car parking spaces will be available which should "adequately service" the new development, with additional on street parking and public car park close by.
Both the coffee shop and new retail unit would stretch to 1,250 sq ft each.
In all, the collective retail floor space now will be close to 1,200 sq ft more than that intended when plans were first approved for the trio of household names back in 2002.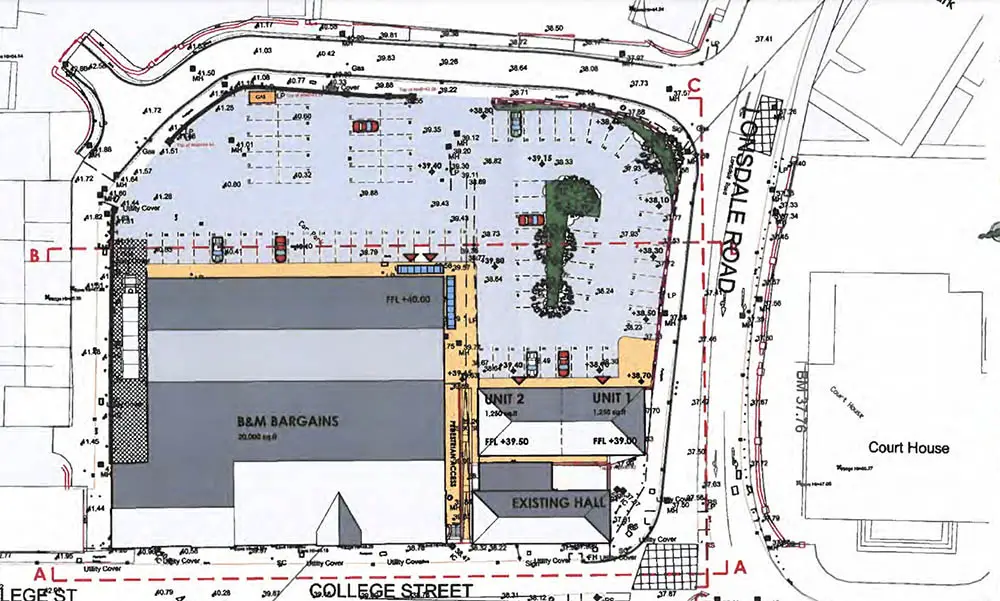 A design and access statement explains: "The external design of the extension has taken account of the site's surrounding historic context, with careful consideration given to the surrounding buildings, to ensure the extension complements the scales and proportions of both these and the existing unit.
"By doing so, we consider the extension presents a uniform and consistent design which negates and potential adverse impacts on the Conservation Area and surrounding Listed Buildings."
It says the plans represent an "appropriate retail proposal" for the site.
The statement – in urging approval "at the earliest opportunity" – adds: "This is geared towards meeting the needs and improving the offer of the existing B&M Bargains store, and also makes provision for smaller retail and coffee units, with appropriate car parking and servicing arrangements to support the development."
The application is due to be publicly advertised this week.
Sign Up To Our Newsletter