A public lecture in memory of a former Armagh man – a noted teacher and scientist – is to be held in his native city.
Dr Denis Gerard McCarten – who passed away in 2014 – was a distinguished past pupil of St Patrick's College in Armagh.
Now the Armagh Natural History and Philosophical Society will honour his memory at a free event, to be held at 7.30pm on Thursday, October 27, in the Armagh County Museum.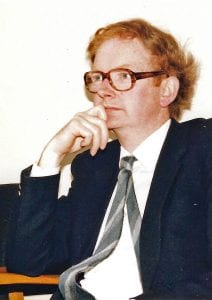 Born in 1944, Gerard McCartan was one of two sons of Denis McCartan (1895-1951), the former Assistant Postmaster of Armagh, and the event will celebrate his life in science and science communication at the University of Newcastle upon Tyne as both teacher and research scientist.
The event will begin with a short introduction to Gerard McCartan by family members, followed by an illustrated talk on 'Babylonian Astronomy and Modern Science', by Professor Richard Stephenson, Emeritus Professor in the Department of Physics, Durham University.
Professor Stephenson's main research interests are in Applied Historical Astronomy.
The lecture will then be followed by a general discussion of the relationship between science, philosophy and religion, reflecting topics covered in a popular course co-delivered by Gerard McCartan at Newcastle University for many years, namely 'Faith, Reason and the Cosmos'.
The proceedings will conclude with light refreshments in the Society's Reading Room and there will be a retiring collection in aid of Cancer Research UK.
The event is being held in association with the Armagh Observatory and Planetarium.
Mark Bailey, Chairman of the ANHPS and Emeritus Director of Armagh Observatory, said: "This event is not just an opportunity to learn something about ancient historical astronomy, but also to learn more about Gerard McCartan, his family, and their life and times."
Gerard was born in Lower English Street, Armagh, and educated first at the National School at Banbrook Hill, where his mother, Marie Sylvestor McCartan, was a teacher, and then for a couple of years, from September 1956, at St Patrick's College, Armagh.
The family subsequently moved to Buxton, England, in 1958, from where the young Gerard commuted daily to the Xaverian College, Manchester, where he won several school prizes and left in the summer of 1963 for Newcastle University to study Physics.
It was there that he spent his entire academic career, specialising in atomic physics, teaching thousands of students, and developing new ways to bring the public into the university and to take science out into the schools and colleges of the region and to the wider public.
Professor Stephenson's public lecture will explain how, from at least as early as 700 BC, Babylonian astronomers kept a regular watch for a wide variety of celestial events. Their observations included eclipses of the Sun and Moon, and conjunctions of the Moon with planets and bright stars, as well as occasional comets and meteors.
The records of these phenomena, the prime sources of which are astronomical diaries, are inscribed on clay tablets using a cuneiform script; they are largely preserved in the British Museum.  More than a thousand tablets are preserved.
Although most texts are in a fragmentary condition, extensive studies have revealed much that is important in present-day science. For example, early sightings of Halley's comet are helpful in studying the past orbit of the comet; while numerous timed observations of eclipses enable long-term changes in the Earth's rate of rotation to be investigated with remarkable accuracy.
The Armagh Natural History and Philosophical Society was established in 1839 and evolved from the Armagh Mechanics Institute founded in 1825.  Its object is 'the promotion of the knowledge of Philosophy, Natural History and Archaeology' and it is one of the oldest surviving societies of its kind on the island of Ireland and the oldest learned society in Armagh.
For more information, contact the Secretary, The Armagh Natural History and Philosophical Society, Armagh County Museum, The Mall East, Armagh BT61 9BE.
For information about this specific event, contact the Chairperson, Professor Mark E. Bailey, Emeritus Director of Armagh Observatory, Armagh Observatory and Planetarium, Armagh BT61 9DG; E-mail: meb@arm.ac.uk
Sign Up To Our Newsletter