Southern Regional College's Higher Education graduates celebrated their academic achievement across a range of subjects with family, friends, and College staff in a major ceremony at the Armagh City Hotel on Friday, September 1.
This special event recognised individual and collective success as 179 graduates were conferred with Foundation Degrees, Higher Level Apprenticeships, and Professional Qualifications spanning a wide variety of courses delivered at the College's Armagh, Banbridge, Newry, Lurgan, and Portadown Campuses.
Many more SRC graduates attended ceremonies held at Ulster University and Queens University Belfast among others.
Honours Degrees were delivered in conjunction with Ulster University, Liverpool John Moores, and Stranmillis University in subjects such as Creative Imaging, Early Childhood Studies, English & History, and Business Studies. The event saw students of all ages achieving success in these areas.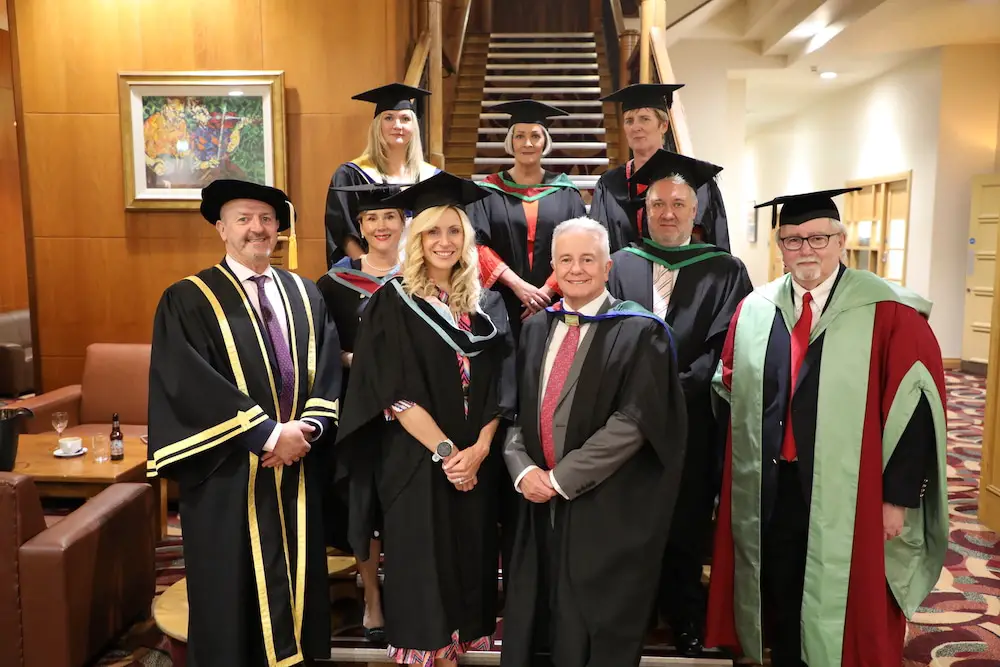 SRC welcomed Deborah Loughran, founder of King Communication as guest speaker to the event.  Deborah is a communications and marketing consultant who has worked with local and international brand names.  Deborah is a keen lifelong learner having both undertaken additional learning courses and mentoring others.
Speaking at the event, Deborah said: "I would encourage any graduate to never stop learning.  I spoke about getting my Diploma way back at the start of my career and I have tried to never stop learning.  I do one major course every year especially in the face of the world that we live in, without constant learning we get left behind.  Today is not about the end of your learning, it should be opening the door to what comes next and there is plenty of people in this room that can help and guide you as SRC's core value is 'Putting the Learner First'."
Mr. Raymond Sloan, Chief Executive of Southern Regional College, in his first public event as the newly appointed Chief Executive, welcomed graduates, their families and friends, and paid tribute to the work of the College staff in providing an excellent learning experience for graduates.
"To all graduates, I offer my warmest congratulations on your academic successes – the culmination of many years of dedication and hard work. You, your family and friends, and all College staff are extremely proud of your achievements. You are graduating from one of the best Colleges in the UK, a phrase I don't use lightly, but which has been bestowed on us for our renowned excellence in teaching, student success and award-winning support services.
"Through significant effort and fortitude, you have all achieved something remarkable and today we have the opportunity to celebrate and reflect on those achievements.
"Today is your day in the academic spotlight – it is a time for celebration, a time to reflect on your success but we should also remember that you have had some help along the way.   Your families and friends have been there to provide emotional, practical – perhaps even financial – support during your years of study, while the staff of the College have worked with you to ensure that you've had the best possible learning experience.   So, on your behalf, I want to thank them all for the contribution they have made to your success.
"We wish you everything that you so richly deserve in the years ahead – it has been an honour and a privilege watching your progress and success!"
Sign Up To Our Newsletter