As a child, Frankie Mallon's summers were spent with his grandmother in nearby Ardboe, foraging for blackberrries, making jam and skinning and cooking eels.
Little did he know it then but  those idyllic months were to shape the rest of his life.
Now a renowned chef with his own Michelin-recommended restaurant in Westport, Frankie (53) still retains links with his home town of Blackwatertown.
His restaurant An Port Mór (the Irish for Blackwatertown) is named after it for a start.
And on Saturday, September 17, members and friends of An Port Mór GAA club are set to cycle 146 miles to the restaurant to raise money for the club and a rare diseases charity, where they can be assured of a warm welcome, and some amazing food.
Looking back on those early years, he says: "The whole big thing now is foraging. We did that 40 or 50 years ago. It was my granny's way of life. She lived on her own and was very self-sufficient.
"The fishermen would have dropped off a bag of eels every night on the way home and I used to watch her skinning them and frying them up. It was a difficult enough thing to do. I learnt to skin an eel when I was nine or 10.
"That's where it all started. As I was leaving school at the age of 16, I had it in my head to do cheffing."
After leaving St Brigid's High School in Armagh, he went to Armagh Technical College and did a basic cookery course, after which he progressed to a two-year City and Guilds in Portrush Catering College.
His first job was at Roscoff's in Belfast with Paul Rankin, and he was part of the team when the  restaurant became the first in Northern Ireland to be awarded a prestigious Michelin star.
"It was six-day weeks, working 14-15 hours a day, but I loved it," he says.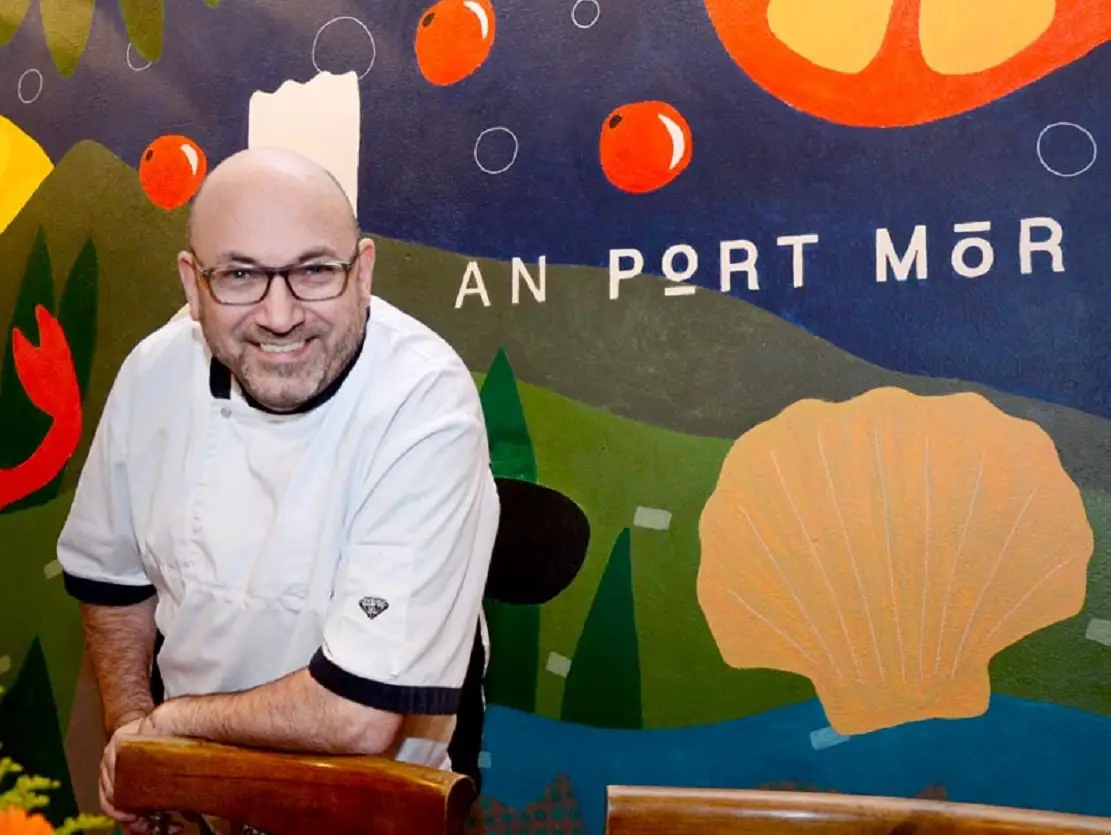 The long hours and tough working conditions didn't put him off. And, as he points out, he didn't have any choice but to work hard.
"What was the alternative?  I wouldn't have had any money otherwise. My parents lived in a council house in Blackwatertown and I wasn't going to go running back to them," he recalls.
"It was different times then. You had to make a go of it.
"It was tough. Paul Rankin had just come back from working in a three-star Michelin with the Roux brothers in London, and he didn't take any prisoners.
"Looking back on it, if I had been a soft touch, I wouldn't be here today with my own restaurant. If you were tough enough to get through it, you went on to bigger and better things."
Frankie then moved to Bern in Switzerland for a year followed by Paris for a further two, where he worked in a brasserie owned by three-star Michelin chef Guy Savoy.
Even at that point, he dreamed of owning his own restaurant and on his days off, used to wander around Paris with a pen and paper, looking at the menus posted outside and noting down dishes that caught his imagination.
"I would walk for hours and hours. I still have the notebook to this day and often reference it for ideas," he says.
After leaving Paris he freelanced for a year before applying for a job as head chef at The Towers seafood bar and restaurant in Westport, Co Mayo.
He was still just 27 at the time.
He then took a job as head chef at Sheebeen in the town, which had been started up by the same owner, and spent a further four years there.
By that time, he had amassed a "loyal following and a good reputation" and when a restaurant lease came up in Westport, his good friend Tom Burke persuaded him to open it up with him.
Finding a name for the restaurant proved difficult, however.
"Myself and Tom and his wife Aoife and my wife Olivia were racking our brains," he explains. "They were coming up with these fancy, posh names – someone said '24 degree 36 degree west', the co-ordinates of Westport, and I kept saying 'no, no'.
"I wanted something that I could relate to. I was the one who was going to be doing all the hard work in the kitchen. I was really stubborn about it!
"One day myself and Olivia were up visiting my mother. We were driving into Blackwatertown and there was a big sign up as we drove in, An Port Mór, and I said 'that's it, that's going to be the name of the restaurant'."
It was added to a list of 10 possibilities and came out on top.
The restaurant opened in May 2009 and Frankie never dreamed it would be so successful.
"We were only two young fellas starting out and having the craic," he says.
Thirteen years later, he is still there while Tom now runs The Towers.
"I am married here now and this is my home. It's great. I only live 10 minutes away and you've got the sea and Croagh Patrick and Connemara," he says.
"I don't think of it as work, I think of it as a way of life.
"I am still cooking every night and I have a team of chefs that I wouldn't have had before. We're busy all year round.
"I would say nearly everybody around Blackwatertown has been in at some stage!"
Frankie's son Oisin (22) helps out in the restaurant every summer but has just completed a course in mechanical engineering and has no plans to follow his dad into the business.
The restaurant has been in the Michelin guide for the past 12 years, which is no mean feat.
"We have had an inspection every year and have passed every time," adds Frankie. "We never know when they (the inspectors) are coming in. They pay their bill and they leave and you don't even know they are here.
"The least you have to be is consistently good and that's why we're so successful."
As for the future, Frankie says he will keep pushing for a Michelin star.
"It's a completely higher level of standards and service, but it's nice to dream."
Sign Up To Our Newsletter