Historic stone walls and decorative railings on the Mall in Armagh which were destroyed when a lorry shed its load early last year will finally be restored, Armagh I can reveal.
Large sections of the masonry of the Mall West wall were shattered and railings bent and twisted beyond repair after the incident.
And while painstaking efforts to mend the famous Mall features will now be carried out, Armagh City, Banbridge and Craigavon Borough Council has indicated no costings are available at this stage.
That said, it is expected to be a significant sum given the detailed and intricate craftsmanship which will be required.
It was on January 11,  2021, that a lorry carrying a pre-fab cabin shed its load on Mall West, becoming dislodged by the branches of trees.
Damage was caused to the wall and railings on the Mall, as well as three other vehicles, as a result of the incident.
The lorry drove into a Seat Leon which in turn collided with a Caddy van and it into a Ford Fiesta.
The Seat Leon was left overturned on its roof following the incident with two female passengers still inside.
A 42-year-old Dungannon man appeared in court and was sentenced in December for dangerous driving, failing to stop where an accident occurred, failing to report an accident and failing to remain at an accident scene.
He was given a three-month jail sentence, suspended for two years, and was banned from driving for a year.
The damaged walls and railings have been cordoned off from the public in the interest or health and safety since it happened over 14 months ago.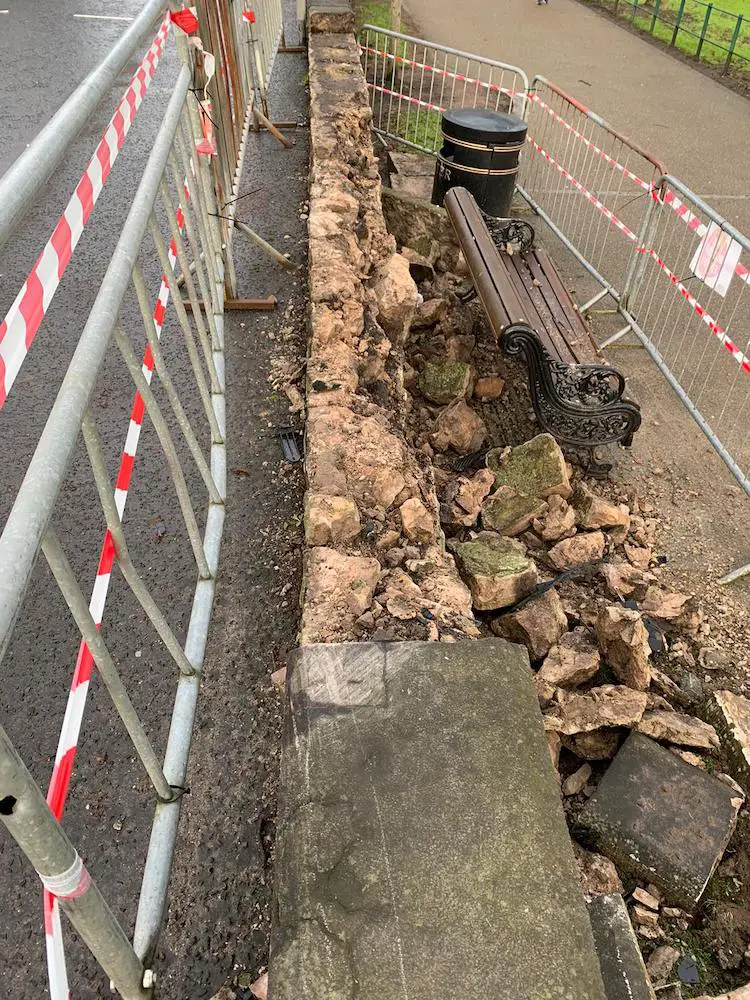 And their unsightly appearance has led many to question when – or even if – they are going to be prepared.
Now Armagh I can reveal that the work is finally set to be carried out.
A spokesperson for Armagh City, Banbridge and Craigavon Borough Council confirmed that it has now gone out to tender to find the people qualified to get the job done.
According to the specifics of the tender, the council is seeking a "suitably qualified and experienced contractor to carry out the specialist rebuilding and restoration of the damaged natural stone wall and railings on The Mall, Armagh".
And it adds: "The historic walls have been impacted on two locations at the same side of the mall. The historic railings are also damaged and will require sensitive restoration and replication.
"Works will occur within a conservation area and the wall must be sensitively restore to match the original.
"The project will include the sourcing of new matching stone and metalwork restoration and replication."
The deadline for receipt of applications by interested parties is Friday, April 15.
The work is expected to take five months to complete.
The ABC Council spokesperson confirmed to Armagh I that the contract is expected to be awarded in May, meaning work could be completed before the end of the year.
Sign Up To Our Newsletter