An Armagh-based husband and wife duo are about to become the first on the island of Ireland to introduce an edible coffee cup to their customer base.
The new, sustainable cup by Cupffee will make its debut appearance at popular leisure centre eatery, Cafe Olympus, from today Friday June, 30.
Behind the climate-conscious move are Dobs and Pam Chemshirovi who have managed the café at the Orchard Leisure Centre site for over 13 years.
Speaking to Armagh I, Pam described the cup as "a unique idea" that fits well with their health-conscious clientele.
She said: "Here at the leisure centre we try to offer our customers something with a health benefit. Cupffee is vegan and low calorie so as well as being good for the environment it is also good for the customer".
Described as a 'cookie cup', Cupffee does not alter the taste of your drink. The current 240ml (8oz/10oz) size is perfect for small beverages and provides a guilt free, organic snack at only 56 kcal.
Whilst the manufacturer air on the side of caution with a 40-minute guide for consuming liquids from Cupffee, the pair have tested its durability up to two hours.
If not eaten, the cup can be disposed of with food waste and will naturally begin to breakdown in around four hours.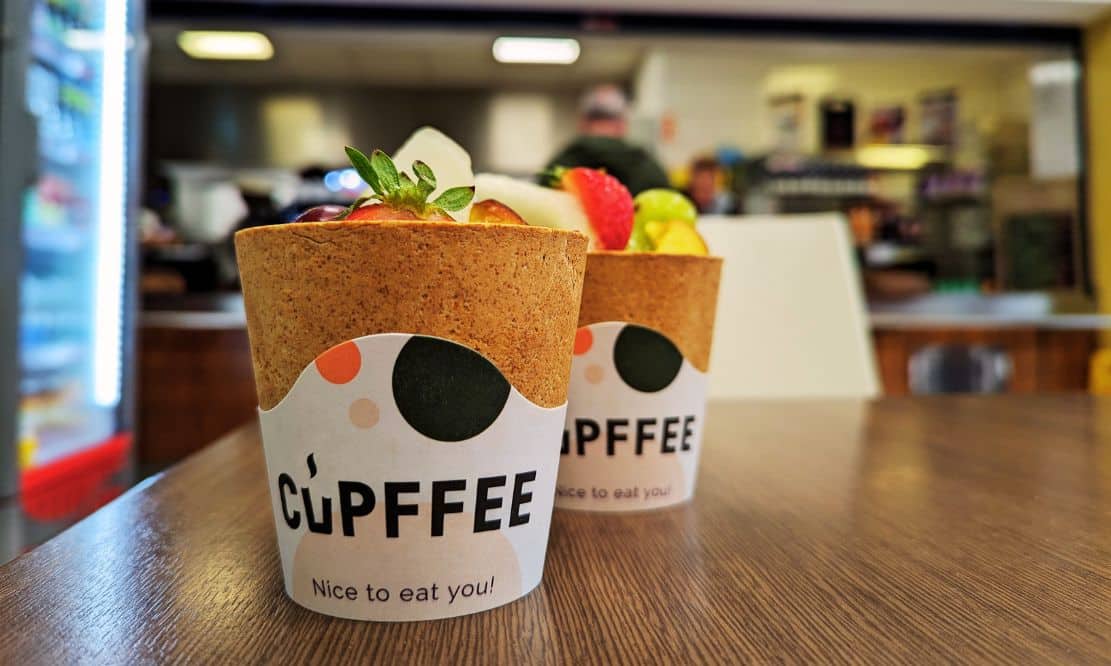 The multi-functional receptacle has already been a hit amongst the café kitchen team who have been coming up with various ways to incorporate it into their everyday ahead of the launch.
"It can hold tea, coffee, lattes, hot chocolate, cold drinks and desserts too like fruit salad and ice-creams. For parties and functions, if the customer wishes, we can use Cupffee cups for platters," said Dobs.
For now, the café will be offering customers the option of a traditional china cup, compostable takeaway cup or a Cupffee but are urging customers to think about the environmental impact when making their choice.
To this end, there will be no additional charge for choosing a Cupffee over the alternative options.
Of the environmental impact, Pam said: "Of course we still offer compostable takeaway cups but these are still not good enough for the planet. They take far too long to breakdown. Cupffee will be gone in only a few hours. It's also a fun idea. We hope that people will like it as much as we do".
Whilst Cupffee will undoubtedly be a unique selling point for Café Olympus, the couple are not seeking exclusivity.
They said: "We are so excited to bring this option to our customers here in Armagh but we would love to see Cupffee appear all over the country in various outlets and are happy to speak to anyone who would like more information."
Follow Cafe Olympus on Facebook here
Sign Up To Our Newsletter