A group of people with addiction issues from across the Southern Health and Social Care Trust is working with staff to help improve services.
'So Hope' which stands for 'Southern Hope' brings staff and service users, past and present together with the common ground of shaping and changing services for the better.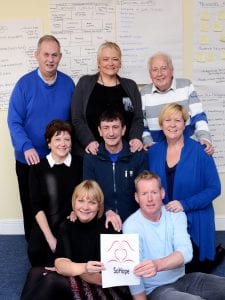 Cathy Guy, from the Communication Addiction Team, explains: "Substance misuse and addiction not only causes physical and emotional damage to the individual user but can be devastating to the rest of the family, leading to stress, relationship issues and financial difficulties. Taking personal responsibility is a key factor in a successful recovery for people with addictions and through So Hope we are helping our service users to take that responsibility and make a change.
"So Hope focusses on the individual's strengths, giving them a voice to influence service development by sharing their experiences.
"Since it was set up two years ago, So Hope has had great success with both staff and service users embracing the partnership to promote equality of services and act as advocates for people with addictions."
Some key achievements include; setting up a support group for addiction patients; influencing a number of service changes and; establishing 'Harm Reduction Cafes' throughout the area. The group is also part of the Regional Service User Network for Addictions,  has contributed to Regional decision making processes and participated at last year's regional Harm Reduction conference as guest speaker.
Some So Hope members have recently completed peer advocacy training, whilst others are involved in WRAP (Wellness Recovery Action Planning) facilitation for people with addictions.
So Hope meets every four to six weeks and always warmly welcomes new members. To find out more about their work or to get involved contact the Community Addiction Team Tel: 028 3741 2481.
The group would like to pay tribute to Wallace Holmes, one of their much loved members who sadly passed away in December. Wallace played a key role in SoHope and he will be deeply missed.
Read more news:
Club pays tribute to 'well loved' Michael McConville
No more new play parks in smaller areas across council borough
Man escapes injury after petrol bomb launched through window of home
Third crash on main Armagh to Keady Road over festive period
Temporary classroom plans allow major Armstrong Primary extension work to begin
Sign Up To Our Newsletter