A couple whose baby was born 13 weeks early have celebrated her first birthday by raising more than £8,000 for the neonatal unit which cared for her.
Matthew and Aisling Kernan, from Tullysaran, were so appreciative of the support both they and daughter Éabha received that they decided to hold a charity raffle instead of buying expensive birthday gifts.
The couple had initially decided to raffle off just one prize – an overnight stay and dinner for two at Killeavey Castle – but friends and neighbours heard about the fundraising and more prizes came flooding in.
On November 13, the day after Éabha's birthday, her parents handed over a cheque to the Perinatal Trust Fund NI to support the work of the neonatal intensive care unit at the Royal Maternity Hospital in Belfast.
They were accompanied by their daughter who is now a healthy, smiling baby, fascinated by Peppa Pig.
As Matthew said, it's a far cry from this time last year when the couple could only look at their first child through a glass incubator.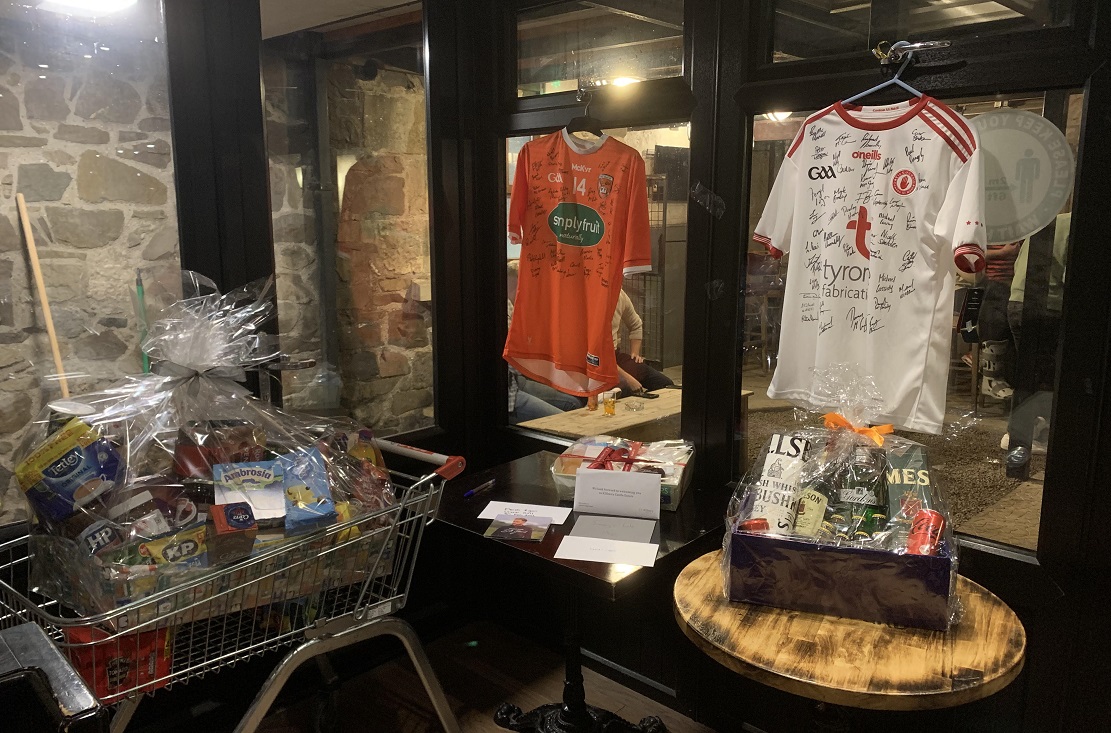 Éabha was born at 26 weeks by Caesarean section after Aisling developed pre-eclampsia and was admitted to the Royal.
"We had a week or two's notice that the baby could come early  but it was still quite a surprise to us. It was a very hard time for Aisling but she was brilliant," said Matthew.
Éabha spent the first eight weeks of her life in intensive care before being moved to the neonatal unit at Craigavon Area Hospital.
"Holding the raffle was our way of trying to give something back to the staff for everything they did for us," said Matthew. "Between Belfast and Craigavon they were excellent. They were Éabha's lifesavers really.
"The attention and care the staff gave to Aisling as well allowed us to focus solely on Éabha, particularly during the first few weeks when it was really hard, adjusting to being new parents but not being able to hold your child.
"She was in an incubator with chest drains so we couldn't take her out to hold her. Everything the staff did for us was unbelievable. They really facilitated us as best they could so we could touch her or hold her hands, to make us feel we were actually new parents."
In wasn't, in fact, until 30 days after Éabha was born that Matthew and Aisling were able to hold her properly for the first time.
Now, however, she's thriving, much to her parents' delight.
"She's hitting all her milestones. She's full of life, full of smiles and laughter. It's a far cry from where we were this time 12 months ago. She's been an absolute warrior," said Matthew.
The couple has thanked everyone who donated prizes and who bought raffle tickets.
Among the prizes was one donated by Matthew's friend, Armagh GAA full forward Andrew Murnan, who had his jersey signed by the whole team.
Tyrone player Conor McKenna also provided a jersey signed by the All-Ireland winning team.
"Everyone's generosity was just fantastic, between the prizes and wanting to support the cause," said Matthew.
"This was far more than we expected to raise and it will go along way to helping young babies in similar circumstances to our daughter."
The prizes and winners were: Killeavy castle overnight stay for two with seven- course meal – Gerald Conlon; signed Tyrone jersey – Cealaigh Quinn; signed Armagh Jersey – John McKeown; McKeevers/Clarin's gift hamper – Eoin O'Hagan; Derek Ryan tickets & CD – Gerry Hughes; SC Embroidery custom sweater – Lucy McGrath.
Also, Karla's Kabin voucher – Caroline Donnelly; food hamper donated by McAnallen's Spar  – Hayley Reilly; Jimmy's Cafe voucher – Emma Murphy; hamper donated by Pauric & Paula McGlone – Lauren McCreesh; £100 cash donated by John Kernan – Matt Graham.
Sign Up To Our Newsletter