Friends of Co Armagh schoolgirl Rebecca Haughey – who died last September after a brave battle with cancer – will this weekend hold a fundraising gig in her memory.
Rebecca, from Lurgan, was a Sixth Form student of St Catherine's College in Armagh.
The 18-year-old passed away at Belfast City Hospital.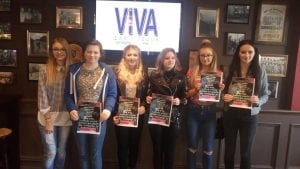 Rebecca's mum heartbroken mum, Colette, started a fundraising drive to give something back to Clic Sargent for the support which the charity had shown to the family.
Now friends of the popular city schoolgirl – who shared her experiences and her determination to beat the disease via social media – aim to add to the charity's coffers.
It is something which Rebecca herself had wanted to do for her 18th birthday but never got to.
This Saturday, April 8, Viva Bar, at English Street in Armagh, will be the venue for the fundraiser.
Her friends – Rayna Gillespie, Niamh McCreanor, Karolina Stonkute, Phoebe Lavery, Bronagh Black, Rachael Oliver, Meabh Rafferty, Micheala Maguiness, Viktoija Kubiliute and Ellen Donnelly – have decided to organise this gig in Rebecca's memory to raise money for Clic Sargent.
Six bands will be playing and all have kindly given up their time, free of charge, to play this event.
The night kicks off at 7pm with Rule of Six, from Lurgan, opening the show. They will be followed by Thunderwolf, Obsidian and Hildas Beard, all from Armagh, Drakonis, from Lisburn, and local legends Waylander closing what promises to be a great tribute for a fantastic cause.
There will also be a raffle on the night and donations at the door, with all proceeds going to Clic Sargent in Northern Ireland.
The friends, who are organising the gig and invite all to come along and show their support, said: "Rebecca was an extremely kind spirited person whose smile and laugh filled the room. Her positive outlook at life was definitely one of the most inspirational things about her, despite the hurdles she faced.
"For her 18th birthday in March 2016, Rebecca wanted to celebrate it by having a fundraiser for Clic Sargent, the charity that provided she and her family with their 'home from home' during her first battle with cancer.
"In February 2016, Rebecca was then diagnosed with Acute Lymphoblastic Leukaemia and was unfortunately unable to have the party she wanted. She sadly passed away on September 8th 2016."
The girls' aim is to raise as much money as possible.
They added: "Clic Sargent in Northern Ireland has one simple aim, to ease the burden of childhood cancer on children, young people and their families."
Please show your support.
Pictured (inset), Karolina, Rayna, Niamh, Viktoija, Rachael and Bronagh. Missing from photo: Micheala, Meabh, Phoebe and Ellen.
Sign Up To Our Newsletter