Reassurances have been given that the sale of Hamilton Court Care Home in Armagh is going ahead – after a deal to save another home fell through.
Four Seasons Health Care dropped the bombshell tonight (Wednesday) that its home in Garvagh will now close – after residents, staff and the local community earlier celebrated news it was being bought.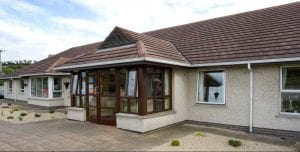 The care group confirmed that the sale would not now progress. It had earlier been indicated a prospective buyer had been found.
The Hamilton Care Court Home – which employs 54 staff and is home to 30 residents – was one of those which had been facing the axe.
Protests in November and a huge community campaign to retain the home was mounted.
In December – after contact was made with the home – it was revealed that a sale was close to being agreed, although some parts of the 'jigsaw' still had to be put in place.
The sale to the Sanville Group in County Tyrone is going ahead – meaning all jobs are safe.
Other Four Seasons homes in Ballynahinch and Antrim are also on course to be taken over.
Four Seasons has said that it now had no other option but to proceed with the original planned closure of Garvagh Care Home, which is expected to take place in late spring.
But, in a statement, the care group insisted the sale of the other three – including Hamilton Court – was still on course.
It said: "We would like to retain as many employees as we can within the Four Seasons Group.
"Sales of three other homes are progressing – Antrim Care Home, Oakridge Care Home in Ballynahinch and Hamilton Court in Armagh."
Read more news:
Parts of south Armagh 'will have two-year wait for superfast broadband'
Brave Grainne's sadness at loss of legends but hopes more awareness will save lives
Urgent safety review sought at scene of double lorry crash at Markethill
Police put on show drugs seized after raids on eight properties in Armagh
Pictures show lucky escape for teen brothers after Keady Road collision
Sign Up To Our Newsletter