An important archive of original manuscripts consisting of short stories as well as a wealth of personal papers by local writer John O'Connor has been donated to Armagh County Museum by his nieces.
Born in Mill Row, Armagh in 1920, John left school in the mid-1930s and 20 years later travelled to Papua New Guinea and Australia where he tragically died from peritonitis in Ayr, Australia in December 1959.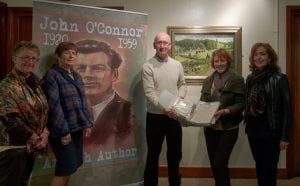 From the 1930s onward John wrote pieces for local newspapers (a series of articles for the Armagh Guardian based on a cycling trip to Europe entitled "O'Connor On The Continent"), a large number of short stories and several documentaries for the BBC under the helpful eye of his friend Sam Hanna Bell.
He is best known for his novel 'Come Day – Go Day', which tells the story of Neilly and his brothers (really John and his family) growing up in Mill Row. It portrays a poor but close-knit community, and captures from Neilly's eyes the wonder, danger and magic of ordinary days. Benedict Kiely, in his survey Modern Irish Fiction describes the novel as a "marvellous little book that could be classed among the minor masterpieces."
'Come Day – Go Day' was first published by Golden Eagle Books Limited in Dublin in 1948 and then republished by Blackstaff Press in 1984. The 1984 book launch took place in Armagh County Museum with John Luke's famous painting 'The Old Callan Bridge' as a fitting backdrop. It was also chosen to illustrate the front cover of the new edition. Sam Hanna Bell said, "We've had to wait 36 years for the reappearance of this gallery of beautifully drawn characters."
On accepting the donated works, Sean Barden, Curatorial Services Officer at Armagh County Museum, commented: "We are delighted to accept this significant acquisition as it adds another jewel to the museum's collection and ensures that John O'Connor's work will always be preserved for future generations to enjoy.
"It's a great honour for our museum to be associated once again with John O'Connor's work some 31 years after hosting his 'Come Day – Go Day' book launch."
John's nieces Fionnuala Gough, Roisin McCaul, Patricia Rooney and Cathy McCullough gathered in the museum for the presentation.
On presenting the manuscripts Cathy said: "Our family is very grateful to Armagh and its people for the warmth with which they have embraced this revival of interest in John's work. We are delighted to share this collection and we hope the people of Armagh and beyond have many hours of enjoyment visiting the John O'Connor Collection in Armagh County Museum."
Two other events will be taking place in the coming months to celebrate John's literary legacy. Tuesday 15th December sees the launch of Armagh Diocesan Historical Journal, Seanchas Ard Macha which will include a comprehensive and interesting article on John's life, written by one of his nieces. The O'Connor family is also delighted to announce that in 2016 the novel will be republished by Liberties Press Dublin, introducing John's writing to a new generation of readers.
It has been proposed as another fitting tribute to John that there should be a Blue Plaque in his native city keeping his memory alive. His nieces have already applied for this to take place as it would be a permanent reminder of his work and his contribution to Irish literature and society.
Plans are also in place to hold a Writers' Intensive Winter School in Armagh next year in tribute to John. There will be monthly arts and literary events celebrating the artistic achievements of Armagh's sons and daughters leading up to its opening in October 2016. Details will be made available closer to the time.
Armagh County Museum is open Monday to Friday 10am to 5pm and Saturdays from 10am to 5pm (closed 1pm-2pm on Saturdays). For further information, visit www.nmni.com/acm or telephone 028 3752 3070.
Picture: Sean Barden (Armagh County Museum) is delighted to accept the collection of short stories and manuscripts from John O'Connor's nieces (from left) Patricia O'Connor-Rooney, Roisin McCaul, Cathy McCullough and Fionnuala Gough.
Read more news:
Watch: Huge fireball streaks across the sky on Sunday night
Thirteen cattle stolen in latest county Armagh farm theft incident
New application to build houses on Armagh's Clump playing fields
Three questioned over ATM theft at Bessbrook
Injured officer home to recuperate in care of his family
Former Crewcatt premises earmarked for 24-hour unmanned filling station
Sign Up To Our Newsletter