The Consumer Council has weighed in and lent its backing on calls for an independent regulator to oversee the practices of Private Car Parking Operators.
In comes on the back of comments from MLA Justin McNulty who branded some private car park owners "a law onto themselves".
Many have been with slapped with highly dubious fines from private car park owners.
Mr McNulty made the call for regulation in response to the large volume of complaints his office had received.
As a result, the SDLP representative has since been contacted by the Chief Executive of the Consumer Council following the comments made on Armagh I.
"Over recent months I have been inundated with complaints from motorists who have fallen foul to the practices of private parking companies, and their enforcement actions," said Mr McNulty.
"There have been countless cases of people receiving parking tickets either from overzealous attendants or by post and the ticket justification and fines are often questionable.
"The common themes include everything from claiming the motorist has been observed leaving the carpark to shop in another store or claiming that the motorist has overstayed their time.
"The problem is that you don't actually receive a ticket on the car windscreen and the first you are aware of the misdemeanour is when you receive a fine through the post."
He added: "I've described the way these companies operate as being a law unto themselves. In Newry and Armagh, the private companies are causing distress and widespread havoc.
"They operate without any oversight or regulation. This just cannot continue. I have sought a meeting with the Permanent Secretary at the Department of Infrastructure to discuss this important issue which is causing aggravation to so many people."
Chief Executive of the Consumer Council, John French, contacted Mr McNulty to share his frustration and that they too believe the rules around private parking tickets/fines remain unclear.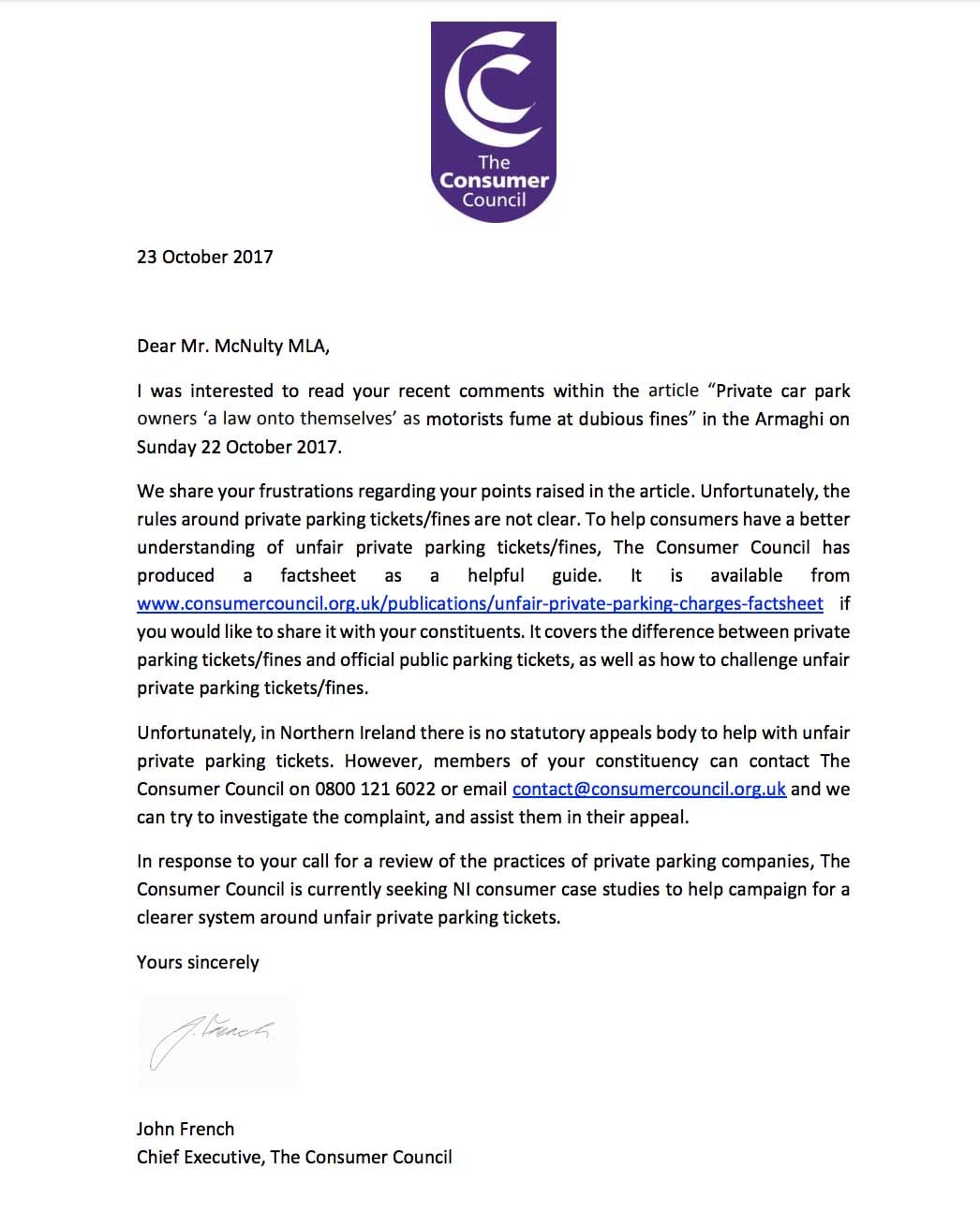 "The Consumer Council have a long history of being a very strong advocate for the rights of consumers across a large range of issues and I welcome their support for my efforts to bring some sort of control and regulation to these cowboy private carpark operators," said Mr McNulty.
"I hope to meet with the Consumer Council in the coming weeks and to work with them in the absence of proper regulation for these companies.
"This work, I hope will help guide any new regulation that the Department of Infrastructure will consider introducing in the coming months."
Check out the Consumer Council's Factsheet on 'Unfair Parking Charges' here.
Read more parking stories:
Penalty charge notice plan for drivers ignoring disabled parking rules at Daisy Hill
'We've got this!': Council to pick up tab for Christmas car parking
Motorists' anger as £100 parking notices slapped on cars at Armagh bargain store
Newsletter
Sign up for our weekly newsletter here.