The family of a hugely popular Armagh man who lost a brave battle against Covid-19 have pleaded with others to take the virus seriously.
Father-of-four Steven (Steve) Golicki passed away peacefully at Craigavon Area Hospital on Wednesday.
His heartbroken son Nathan, speaking to Armagh I, said if their story of heartbreak saves just one life, then it'll be a story worth telling.
Nathan said his "very close" family have been torn apart by the devastating loss of their rock but was at pains to point out, "this could be anyone's family".
Steve, who was also described as "a great man" and a "great friend", was just 59 years  of age.
Posting just 48 hours before Steven took his last breath, Nathan shared this truly heart-rending image of his mum Joanne (below), dressed head to toe in PPE outside the ward where her beloved husband lay fighting for his life.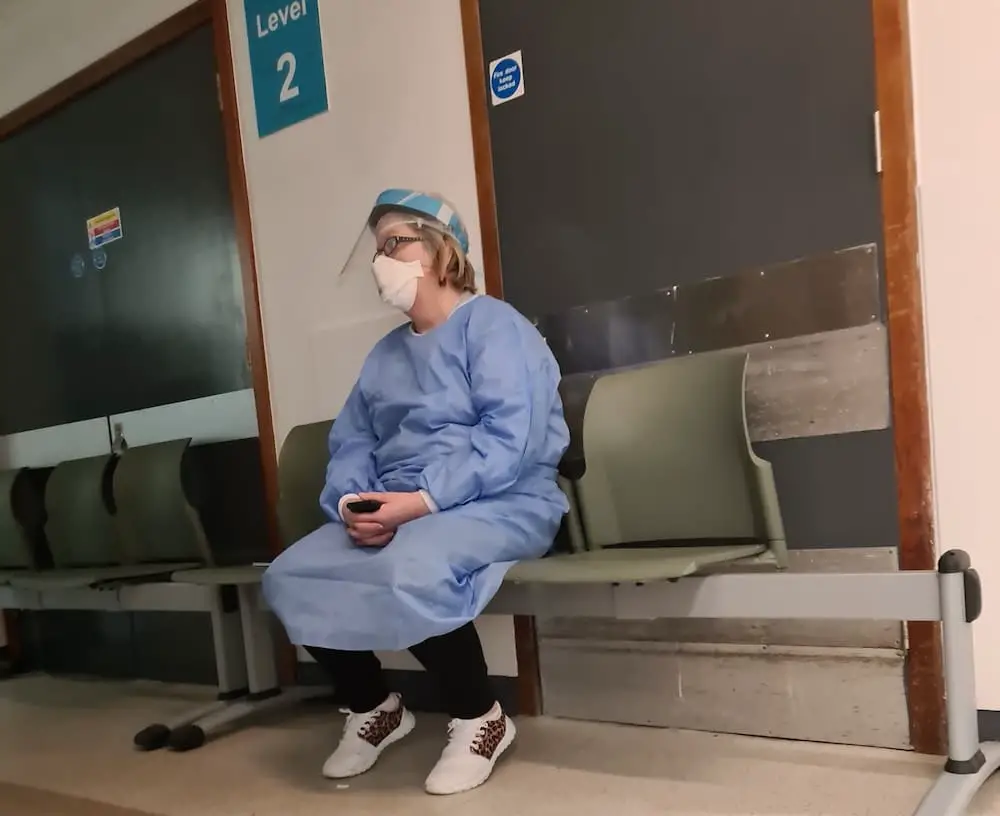 "To anyone that thinks Covid isn't real, just take a look at this pic of my mum," Nathan posted.
"This is her sitting broken outside the Covid ward waiting to see our seriously ill dad who's in fighting for his life. I pray no-one ever has to witness their mum like this."
Nathan pleaded with people to put on your masks to "protect your loved ones".
"Believe me, you don't want to go through this."
Nathan spoke in devastating detail of how each close family member were taken in to see their stricken father, one by one, in case they never got to see him again.
At this stage, Nathan and the family harboured even just a little bit of hope, thanking everyone for their prayers and support.
"Dad is making small progress and he's point blank refusing to give up and determined to leave hospital on his own two feet…he told me to pass on his thanks so thank yous all."
Sadly, it was to be a battle which he tragically lost.
Nathan and the family expressed their deepest gratitude to everyone, but "especially the nurses and doctors that have shown so much love and care for our dad and everyone else in that ward".
He added: "They told me it was their job and it's a pleasure to look after him but none of them signed up to this and they're going above and beyond in them hospitals, for every one of their patients. They are all angels."
Tributes have been pouring in following Steven's passing, a testament to the man he was. May he rest in peace.
Steven (Steve), was the beloved husband of Joanne and loving father to Séana, Nathan, Stefan, Jarlath and son of the late Jan (RIP), 19 Lonsdale Gardens.
Very deeply regretted by his sorrowing wife, daughter, sons, son in law, daughters in law, grandchildren, mother Brenda, brother Andrew, brothers in law, sisters in law, nephews, nieces and entire family circle, neighbours and friends.
Sign Up To Our Newsletter