A security alert in Cathedral Road is coming to an end.
ATO attended and an exploded viable object has been taken away for further examination.
All roads, apart from a small section of the Cathedral Road, have reopened and evacuated residents are now able to return to their homes.
Detective Inspector Will Tate said: "Police received a report of damage caused to four cars in the yard of a business premises just after 7.20am this morning, Sunday 13 March.
"On further investigation it was thought that the damage was caused by an explosion. Further reports and investigations since then lead us to believe that the explosion occurred at approximately 12.40am and that the device was left by a person carrying a backpack at approximately 12.30am.
"ATO have described the object as an improvised viable pipe bomb type device. Today we are lucky that we are not dealing with a serious injury caused by this device and the reckless actions of the person or people behind it.
"I would ask anyone who has any information about this incident to contact detectives at Lurgan Police Station on the non-emergency number 101.
"Or if someone would prefer to provide information without giving their details, they can contact the independent charity Crimestoppers and speak to them anonymously on 0800 555 111."
Armagh I received numerous messages shortly afterwards reporting to have heard a loud bang in the area.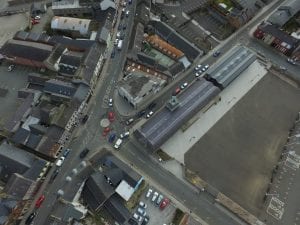 Originally the Cathedral Road, between Edward Street and Lower English Street, were closed to traffic.
This was later extended.
A PSNI spokesperson, providing an update at 2.30pm today, said: "Lower English Street, Upper English Street and part of Cathedral Road, between Edward Street and the Shambles roundabout, have been closed to traffic due to an ongoing security alert in Armagh.
"A number of houses in these areas have been evacuated."
One Armagh I follower told us they heard the explosion at home on the Moy Road.
Scene of the Cathedral Road security alert in Armagh pic.twitter.com/U6d6ibG8LM

— Sara Girvin (@SaraGirvin) March 13, 2016
Another had been walking near the Shambles.
Posting on our Facebook page, he said: "This was about ten to one this morning. We were at the bottom of Banbrook Hill walking towards the Shambles when the "Bang" went off.
"There was a strong cordite type smell in the air shortly afterwards. Didn't see any flash and didn't feel any shockwave etc. Just heard the loud bang."
Newry & Armagh DUP Assemblyman William Irwin MLA has condemned those behind a pipe bomb attack in Armagh City.
The device which exploded at a car dealership on the Cathedral Road caused damage to four vehicles however thankfully no one was injured.
Mr Irwin MLA stated: "This was a particularly reckless act given that the area is a public place and anyone could have been injured by flying shrapnel from this pipe bomb device."
He stated: "Armagh certainly does not need this type of terrorist style activity in the City and I totally condemn those behind the attack and it is a relief that no one was hurt as a result of this explosion.
"I would appeal to anyone who may have witnessed anything suspicious, either prior to this device exploding or in the immediate aftermath, to contact the PSNI immediately and assist with their inquiries. It is vital that those behind this incident are quickly apprehended and brought to justice."
Pictures by GN Drone Works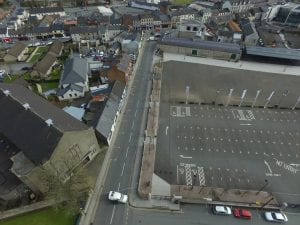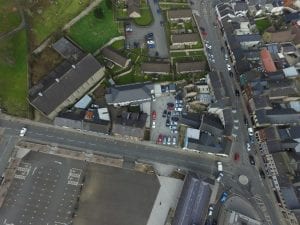 Read more news:
'Acts of wanton vandalism' on GAA club condemned
Official launch for £1.3m greenway linking Portadown and Lurgan
Assembly hears calls to convert Armagh Courthouse into community justice centre
Runner left 'horrified' as calf carcasses left hanging on trees
Minister's words will give fresh hope for campaign to reopen Armagh minor injuries unit
Remarkable stroke survivors 'dare to go bare' for calendar to raise funds and awareness
Sign Up To Our Newsletter