Half of people with guide dogs have been refused access to buildings and services, according to a new report.
The research was carried out by the Guide Dogs for the Blind Association across Northern Ireland over the past year.
And now a Newry and Armagh MLA is demanding an end to this type of discrimination and has called for "stricter legislation" to ensure people with guide dogs are not treated in this way.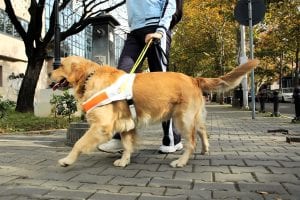 Sinn Fein's Cathal Boylan said he was dismayed by the findings.
"It is crucial that people who are blind or visually impaired have full access to the same services as everyone else," he said.
"Guide dogs are trained to the highest standards and without their help many people would find it near impossible to get around safely, yet many have been refused entry to taxis and other methods of public transport.
"While current legislation requires public bodies, including transport services, to promote equality of opportunity for people with disabilities, this report highlights the problems faced by people using guide dogs.
"Sinn Féin have written to OFMDFM and Minister for the Environment Mark H. Durkan calling for a joined-up approach from both departments to ensure that service providers provide an equal, accessible service for all."
Read more news:
Listen: Why is Tandragee a hotbed for burglaries?
Major £135,000 road resurfacing works begin in Armagh
Police appeal for help in finding missing Co Armagh woman Lorraine
Committee hears 'Armagh courthouse should close with business transferred to Newry'
Thieves attempt to break in to shopping centre via glass roof
Craigavon road collision causes long delays this morning
Sign Up To Our Newsletter