Armagh's granite footpaths will soon be looking as good as new!
Professional cleaners have moved in tonight (Monday) to ensure a 'deep clean', as we reported last month.
The work is being carried out in the evening to minimise disruption.
And it means that thousands of visitors to Armagh this Saturday for the annual Georgian Day will be able to see the results!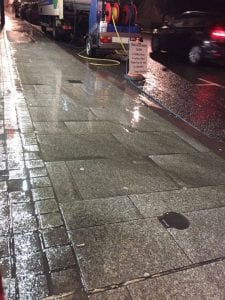 It is the first deep clean since the multi-million pound works across the centre of Armagh saw new paving, seating and tree planting across the city centre.
Further streets were repaved after additional funding allocated by the Department of Social Development in 2010.
Many have become stained and unsightly but all that is about to change.
SDLP Councillor Thomas O'Hanlon last month welcomed confirmation from Armagh City, Banbridge and Craigavon Borough Council officials that the work would take place.
A report on the matter went to the council's Economic Development and Regeneration Committee.
Councillor O'Hanlon said: "It is hoped that works will be completed before the end of November – just in time for the pre-Christmas rush.
"Since the granite footpaths were put in place the city centre has been transformed. It looks bright and modern and yet it respects some of the city's famous Georgian architecture.
"Since the scheme has been completed, we have seen traders invest in their businesses and we have seen a large number of new restaurants thought the city centre with many having outdoor areas as well."
The councillor said that, despite the streets being regularly cleaned, there are areas which have become grubby, greasy and dirty.
"There are areas with lots of chewing gum, food stains, as well as oil and grease," added Councillor O'Hanlon. "This is a horrible sight and I have been contacted by quite a number of traders throughout the city asking if something can be done to have the streets given a good clean.
"Armagh City – along with Portadown and Lurgan – will all benefit from the proposal, and it will see over 37,000 square metres of footway and streetscape cleaned up.
"This scheme is very much welcome and I would like to see this become part of an ongoing maintenance programme for our city and town centres."
It was Councillor O'Hanlon who asked council officials investigate the possibility of this work being carried out overnight.
He is delighted that this is being done and looks forward to the completion.
Read more news:
County Armagh man dies in Australian road crash
Two passengers cut free from vehicle and taken to hospital
Bid to vary planning consent conditions to allow huge housing project proceed
Serious RTC on Moy Road, Armagh last night
Kindness of strangers helps terminally ill David wed love of his life Katy
Man airlifted to hospital after county Armagh crash
Sign Up To Our Newsletter