She tried all the fad diets many have fallen for but for one Armagh woman it was the help of a female-only city gym which saw her lose an incredible six stone.
Curves Armagh offers a 30-minute full body workout designed for women, in a comfortable environment.
The workout combines strength training with cardio activity and stretching to create lean muscle, raise your metabolism, burn fat and tone your body.
Just one of the gym's many success stories is Danielle Grover, who will be joining the team as a trainer in the New Year.
After many years struggling with her weight, the 32-year-old made the decision that she needed to do something for her health, both mentally and physically.
She said: "Weight loss is not just about your jean size, dress size, having a six pack, the numbers on the scale or whatever physical aspect you relate it to. It's so much more than that. It's the mental and emotional aspect, especially for me."
Danielle admitted that her relationship with food revolved around how she was feeling.
She explained: "I have suffered with a few emotional issues in the past all of which I fed,  literally fed with food, and I could easily have had a takeout every night of the week."
The Armagh woman commented that ordering a takeaway or eating out was so exciting as it was the only way she could feel happy, but this buzz would only last so long.
What followed was the list of quick fixes that many people turn to, the diet shakes and pills which promise the world but rarely deliver.
Then in March 2018, Danielle attended a weight loss group with a friend, and after three months loss almost two stones which she described as the "best feeling ever".
However, like many others her weight loss came to a standstill, with a small fluctuation of a few pounds, but she remained determined.
Danielle had a number of attempts at Curves in Armagh in the past but this time was dedicated to see it through.
"I had the best help from Lisa and all the girls. Even on the occasions I'd fallen off the wagon, sometimes taking the wagon with me they got me right back on and helped me smash goals I never thought I'd ever achieve.
"It wasn't a fast process, I had to take one step at a time. Every so often when things came to a standstill, my coach and I had a good chat and lay some changes out on paper."
Danielle continues her 30 minute exercises five times a week and uses the app My Fitness Pal to come up with healthy recipes.
She said: "I'm now six stones down from my initial start weight three years ago. The effect I feel most is the emotional and mental impact.
"I'm not saying I never have a bad day, that would be totally untrue, but how I approach a bad day has changed dramatically."
Danielle added: "I have so much energy, and having the energy to take myself for a workout/walk/run to relieve stress or a crappy mood rather than eat and lay about feeling worse about myself is extremely satisfying."
According to the owner of Curves Armagh, Lisa McCooey, Danielle is just one of many examples she has witnessed over the years which prove the regime works.
Lisa took over the Armagh branch in 2009, but worked as a General Manager for the franchise across the whole of the island of Ireland since 2004.
She said: "The gym offers a space for women to come without feeling self conscious. There are ladies of all shapes, sizes and ages creating a comfortable environment."
Lisa stated that the age of her members ranges from just 10 right up to 86.
"The most important thing is, it works," she added. "We have 13 machines, they don't change. You initially have five one-to-one sessions to teach you how to use them properly but we are still there to help.
"It's just 30 minutes; women are very busy with children, families and work so it works for a lot of my ladies".
If you feel the workout might be too much, don't fear as it will be tailored to your ability.
Lisa explained: "We use out Curve smart system. Everyone is given a key card with targets linked to your height, weight, fitness and strength level.
"We assess these goals every month to make sure progress is being made and working out why if it is not….we also offer help with food and nutrition choices."
Her members have many reasons for coming to the gym, according to Lisa, including a space for time to themselves or to socialise with others.
"During the lockdown, many of my ladies realised that Curves was their lifeline. It was amazing to see them all coming back when we reopened".
Why not book a free consultation and get your first two weeks free in 2022!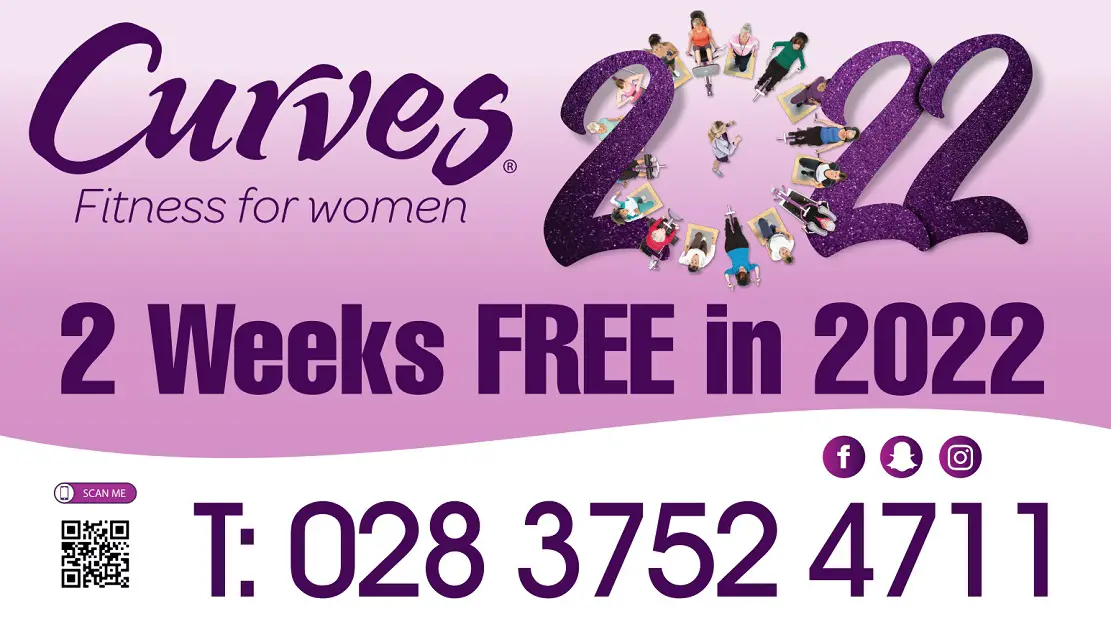 Sign Up To Our Newsletter