The Armagh Observatory and Planetarium have announced a number of spooky, family-friendly Halloween events that will take place on-site in the run-up to Halloween.
The events on offer include: The 'Spooky Star Tracker evening', which will take place on October 27.
This atmospheric event offers something for everyone, with a choice of either the family friendly 7pm Spooky Space Dome show, or the 8pm Look Up Dome Show and comet talk for adults, followed by spine-tingling stargazing.
The 'Spooky Space Dome Show', which will take place on October 22, 23, 29, 30 and 31 will provide families with cosmic fun this Halloween Half-term. This PG rated Halloween Dome Show features monsters, zombies, ghosts, black holes, zombie stars, and spectacular ghostly nebulae!
Show times are at 11am, 3pm and 4pm. Tickets include entry into the exhibition area.
The 'Potions and Explosion Science Show' will run on October 29 and 30.
Located in the Copernicus Hall, this event will see visitors of all ages join Scientific Sue for a special Halloween-themed live science show that includes explosions, mess, fun but more importantly learning!
Lots of audience participation will be needed and each show will last approximately 60 mins.
The Observatory will play host to the 'Tall Tales and Terror tour' on October 29 and 30. Recommended for adults and children aged 10 or over, visitors on this special observatory tour will be led by a terrifying tour guide and regaled with stories that will chill them to the bone!
The Armagh Observatory was founded in 1790, and so there are plenty of tales to tell.
The tour includes general admission to the Planetarium exhibition. Some stories will include adult themes not suitable for young children.
To book tickets for these events, visit: https://armaghobservatoryplanetarium.ticketsolve.com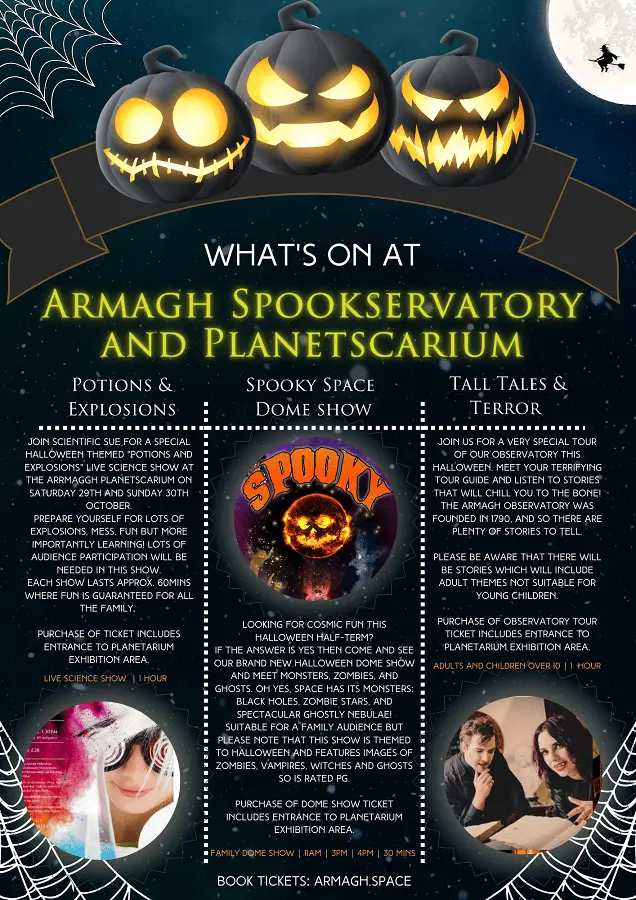 Sign Up To Our Newsletter