Eleven members of the Armagh Pikekickers Club took on the Barcelona Ironman in searing heat, in a race that became a battle of mind over body.
Barry Lynch was one of those who took on the challenge which he described as "emotional"; his body constantly saying enough was enough.
The team each completed a 3.9km swim, a gruelling 181km cycle before finishing off with an incredible 42km run.
Barry, in his own words, explained the journey from start to finish.
"I suggested two years ago we should have a two-year plan to do an Ironman as it is quite expensive to head off to do one, never mind the training.
"You have to enter one year before the event and by the time the entry was open we had 11 Pikekickers signing up for IM Barcelona. That is Step One; a very big step as it is a huge commitment you are signing up for. This is the start of your journey.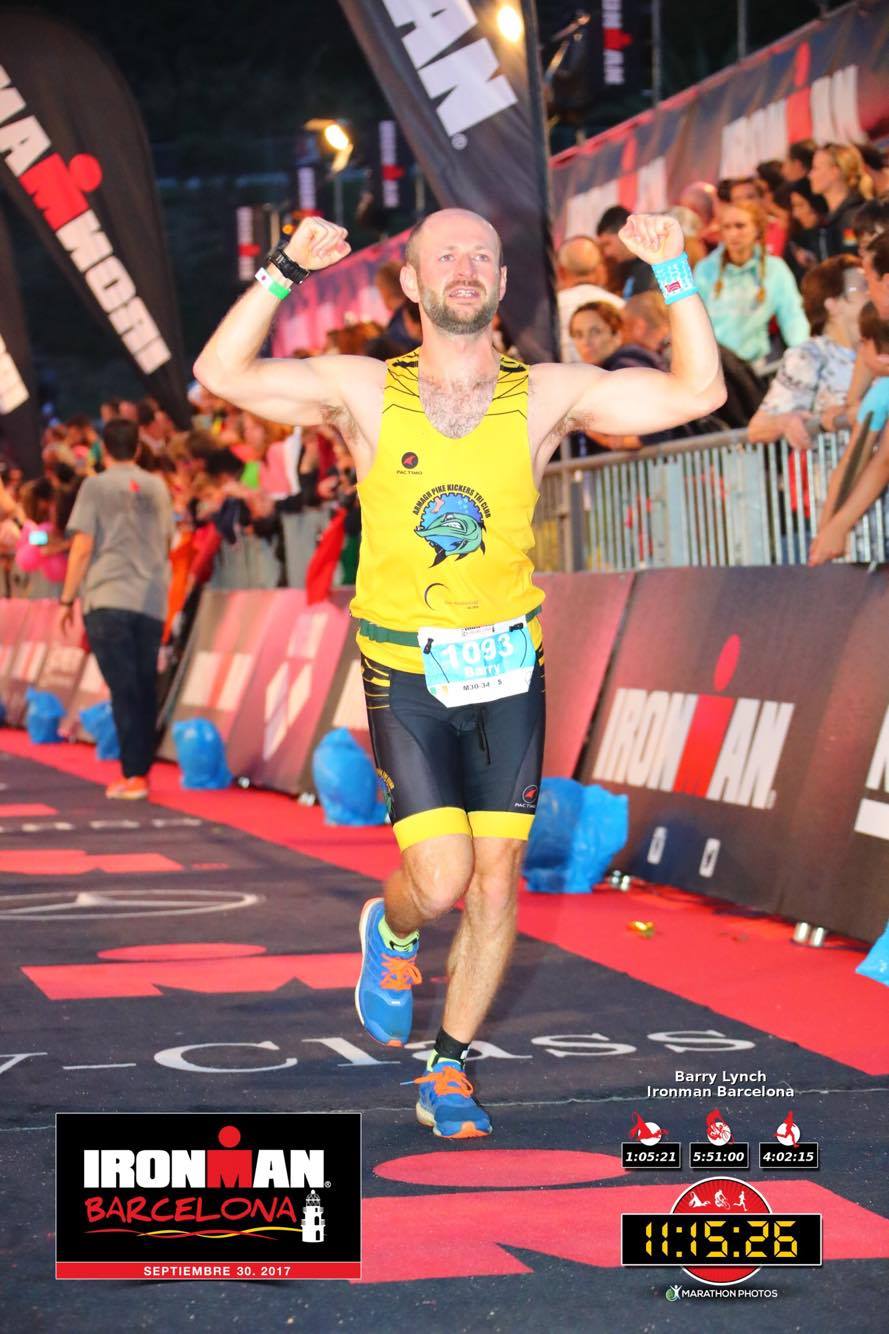 "The first four Ironmen Pikekickers where created in 2016. Ciaran Campbell, John Swail, Sean Mc Sorley and Declan Gordon. So not only were we all inspired by them, we asked them to guide and advise us on our training.
"The training started in January. The cold wet night and days were tough to get motivated as the end goal was so far away. The short sharp sessions where done during the week in the pool and the runs were very rarely flat as Armagh is built on hills.
"Most were following online programs some used coaches to help them. We all had done the shorter triathlons, marathons, long swim and cycling events. But this was different, we had to prepare ourselves to be out for 12/13 hours.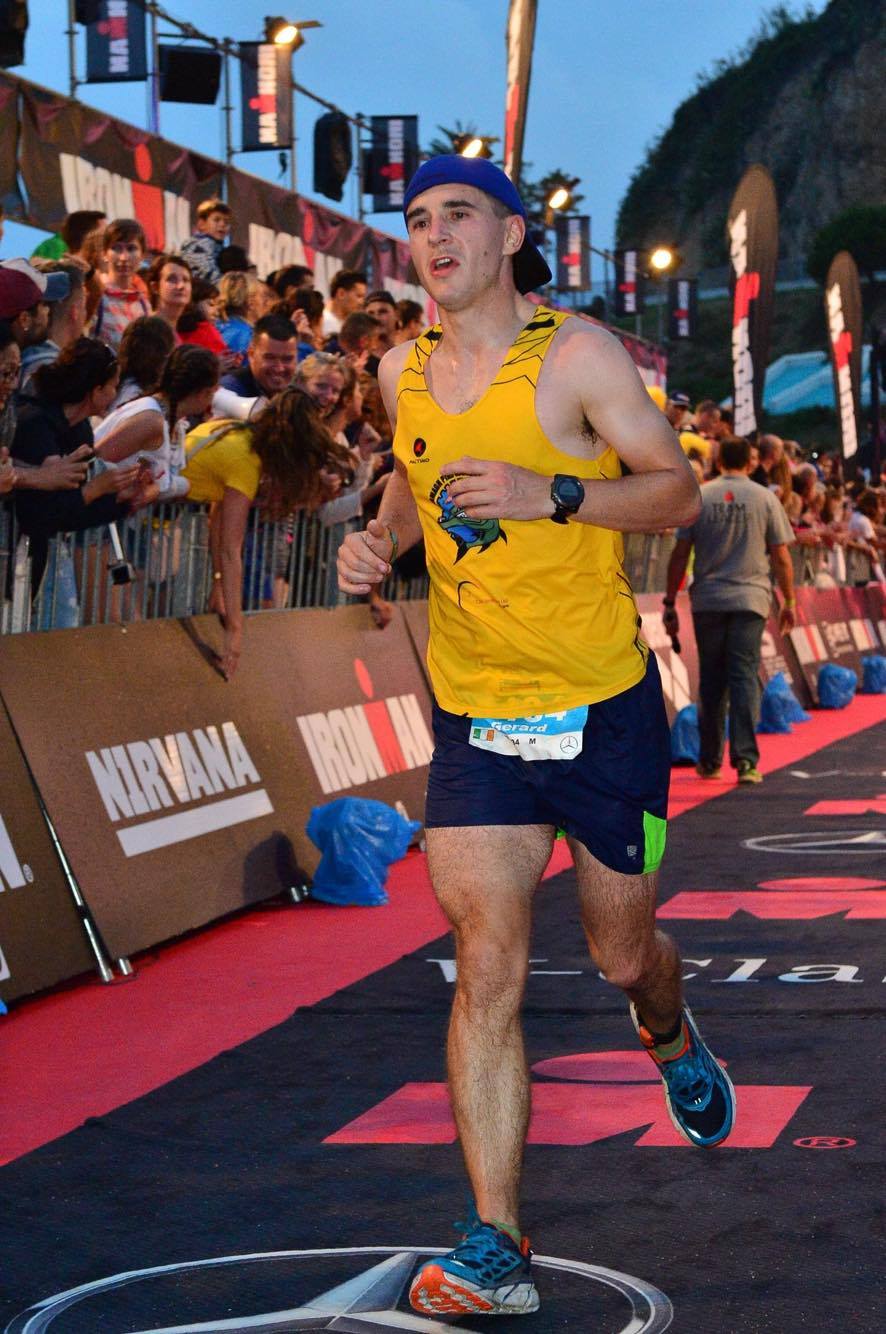 "A lot of credit has to go Gerard Mc Gee and Selwyn Doran who were both very new to triathlon. Gerard just getting his first few done last year. Now he finds himself an Ironman!
"The big hours started in June four months before the big event. We threw in some long-distance events like the Grand Fondo, Half Iron Triathlons, half marathons. But basically, we did something every day, then the long sessions at the weekend.
"A normal weekend would have consisted of a long run/swim Friday; five/six-hour cycle followed by a 30 minute run on Saturday. A one hour swim in the lake followed by a two/three hour run on Sunday. Then back at it Monday or Tuesday. This all done in your spare time so this is where we had very understanding wives and partners come in. It's not just a big commitment for yourself it's a big commitment for your family.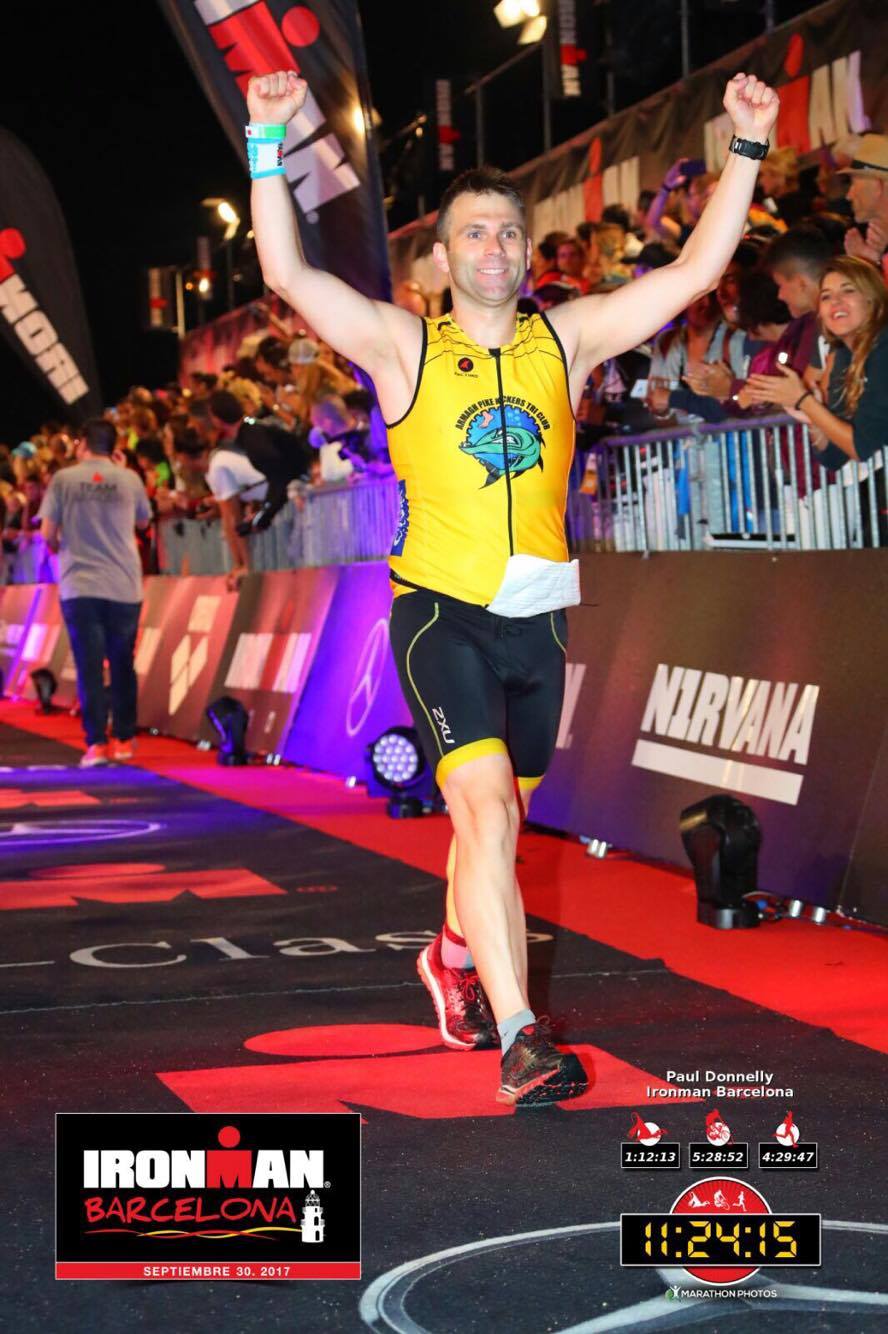 "With so many entering and the size of the event, we decided to set up a team Just Giving page but each individual set up their own charity and raised their own money. There was money raised for Macmillan, Tiny Life, Aware, Cancer fund for Children and Marie curie. We have raised £12,000 altogether but I reckon we will hit £13000 by the time we close the pages. So, we would like to take this opportunity to thank every person that sponsored each member.
"The race was on the Saturday so we flew out on the Wednesday. All 11 Pikekickers where fit to go, which was amazing because the odds were against us to get everyone to the line.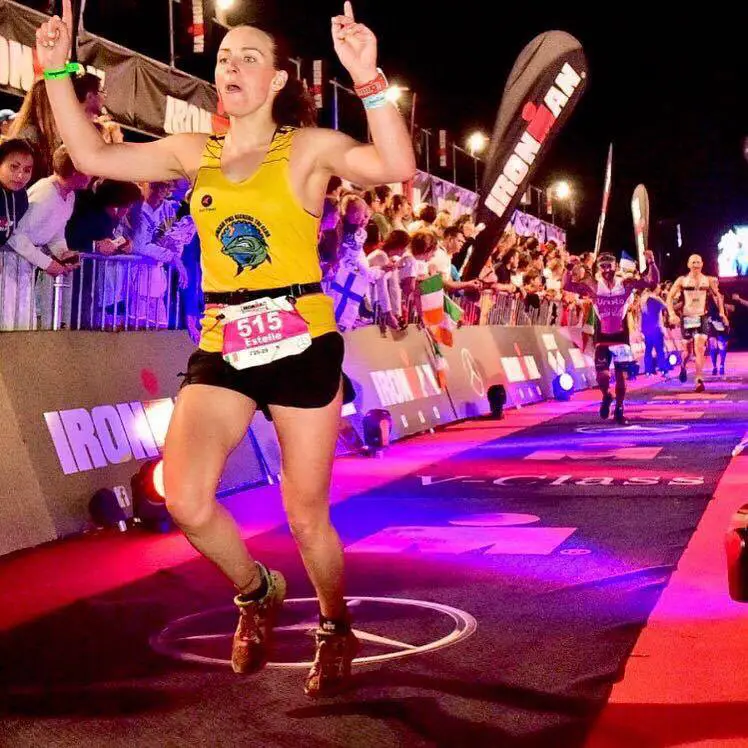 "Our biggest fear now was the heat it was sitting at 27 degrees. As you know our summer was pretty wet and cold so our white skin was not used to this weather. A company, 'Ship my Bike' took our bikes over which saved a lot of hassle. We collected the bikes on Thursday and got a cycle in. It wasn't too bad there was a nice breeze so that settled us.
"We also got a swim in the water which was class. It was crystal clear and probably the nicest water I've ever swam in. Right up to the event we stuck together that really helped take your mind off what was ahead. With a range of characters there was plenty of craic and laughs before. You would not have needed to have been easily offended. There was a real team and togetherness feeling right up to we were ready to start.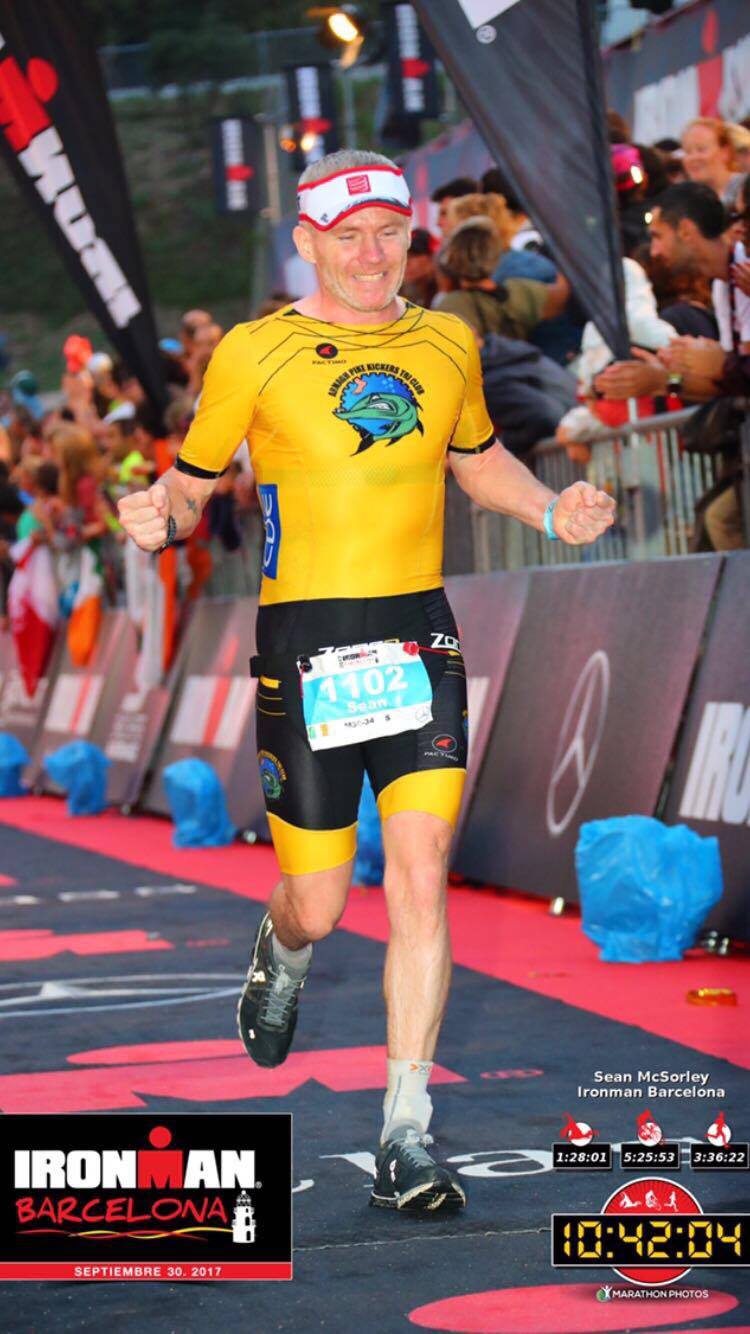 "That Really helped the nerves that morning. But we all knew once got to the start line we were on our own for the day and it was our training we now depended on.
"We had an early start up at 5am for breakfast the only proper meal we would get all day. It was a 20 min walk to the start from the hotel it was dark the whole town where walking the same way like zombies. But of course, the Pikekickers where laughing and joking. The sun rose quickly, the water was very calm and we were now ready.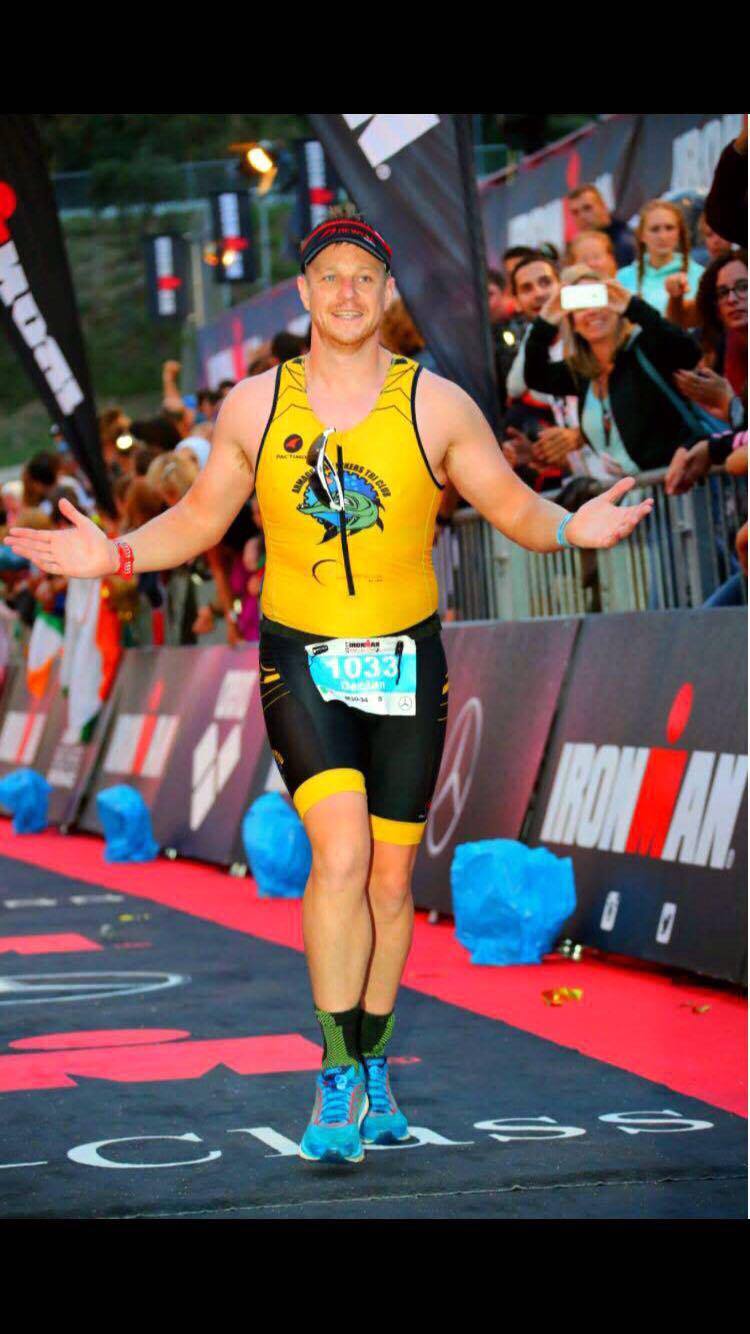 "3000 Athletes where ready to start the final leg of their journey. Ironman do everything so well the atmosphere was bouncing the music was pumping. The pros set off first which makes triathlon unique; you are racing in the same race as professionals.
"Then it was my turn to enter, swimming is my strongest event so I was confident going in. I had in my head 1hr 5min. There was plenty of room, I found my own space and just got into my rhythm. The swim out was about 2k into the current but I kept it good and steady knowing I would get the current coming back, plus I wouldn't have to use any power from my arms after the swim.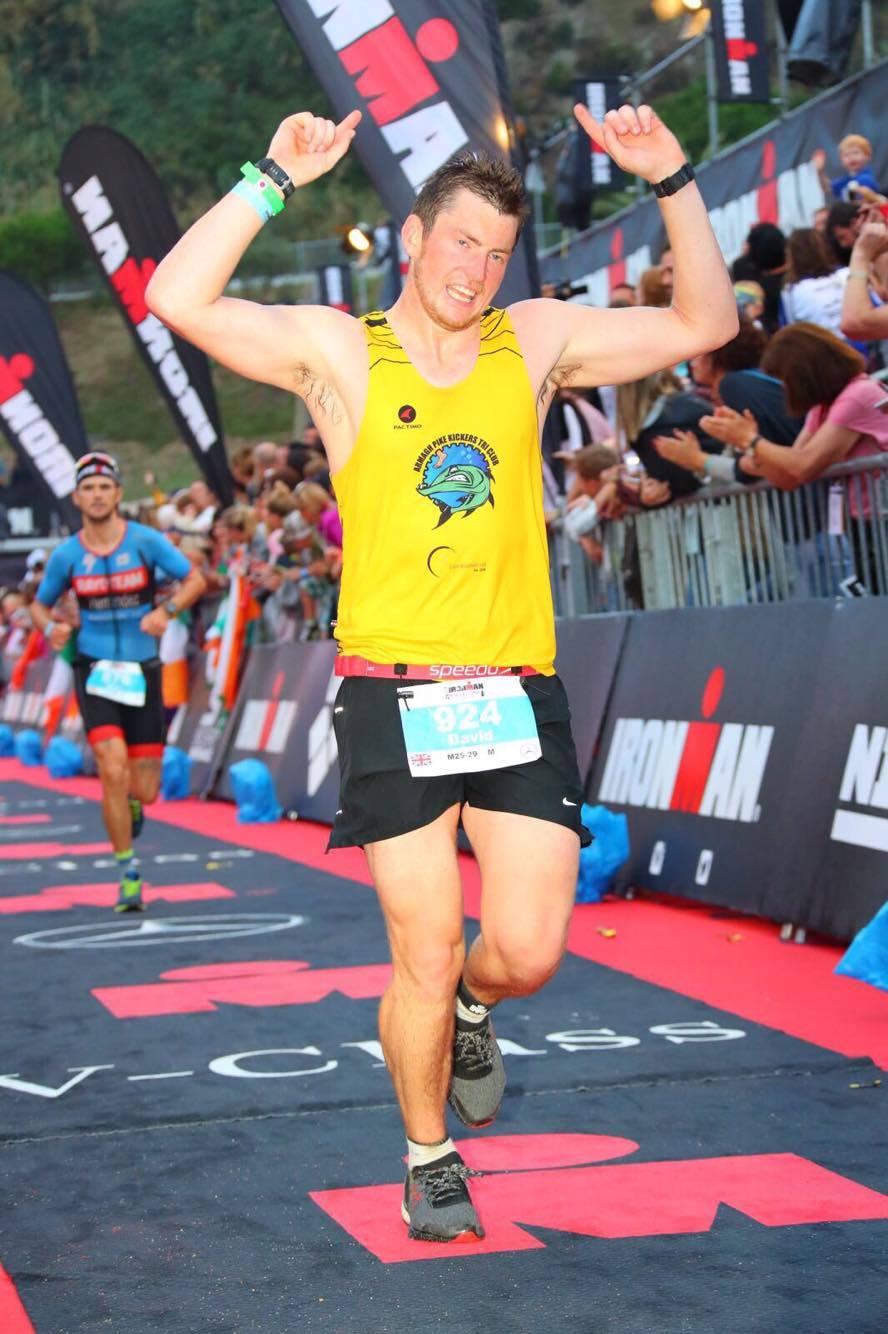 "The swim went to plan as I ran up to the transition area Martina my wife shouted one hour five minutes so that was nice to hear. I took my time changing then onto the bike for a long day on the saddle. I had in my head sub six hors. The bike is my least favourite it's the part I have to work hardest.
"We had 112 miles to do a three-lap course out and back. It was along the coast so the views were amazing. I knew if I kept my heart rate below 155bpm it would get me through.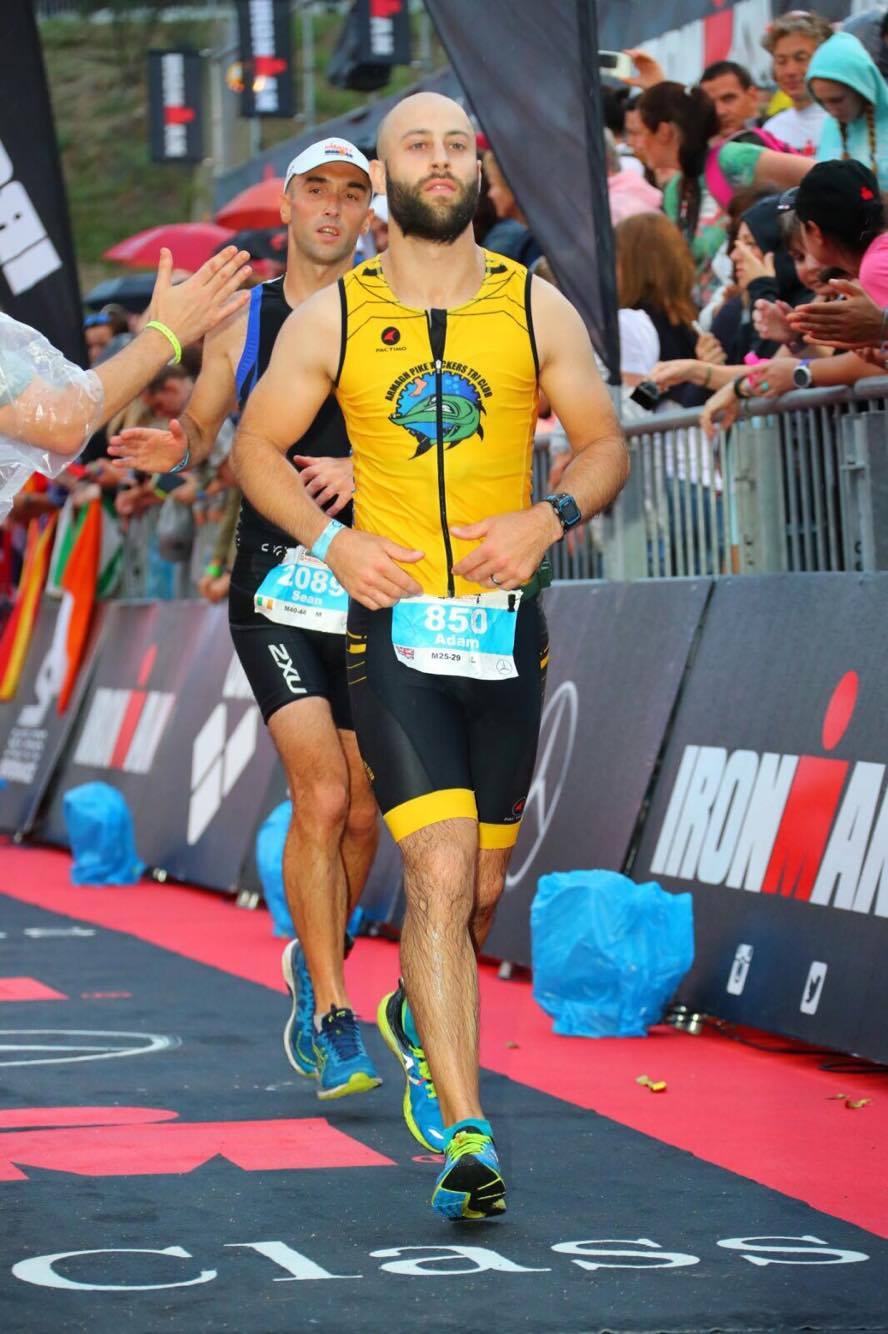 "I watched four of the stronger Pikekickers on the bike pass me with a quick hello. But it was always nice to see the yellow out on course. We had to come back to town three times and that's where the Pikekicker supporters where it was the most amazing feeling to see them, speaking from all the Pikekickers and it was a target to get to that point. About 80mile the legs started to feel it the heat was starting to get to me I just wanted to get onto the run I was sick of power bars and bananas.
"I got it done anyway in sub six hours, so I was happy with that. All was going to plan. Another slow transition but I wanted to be comfortable. A quick jam roll – the nicest jam roll I ever tasted.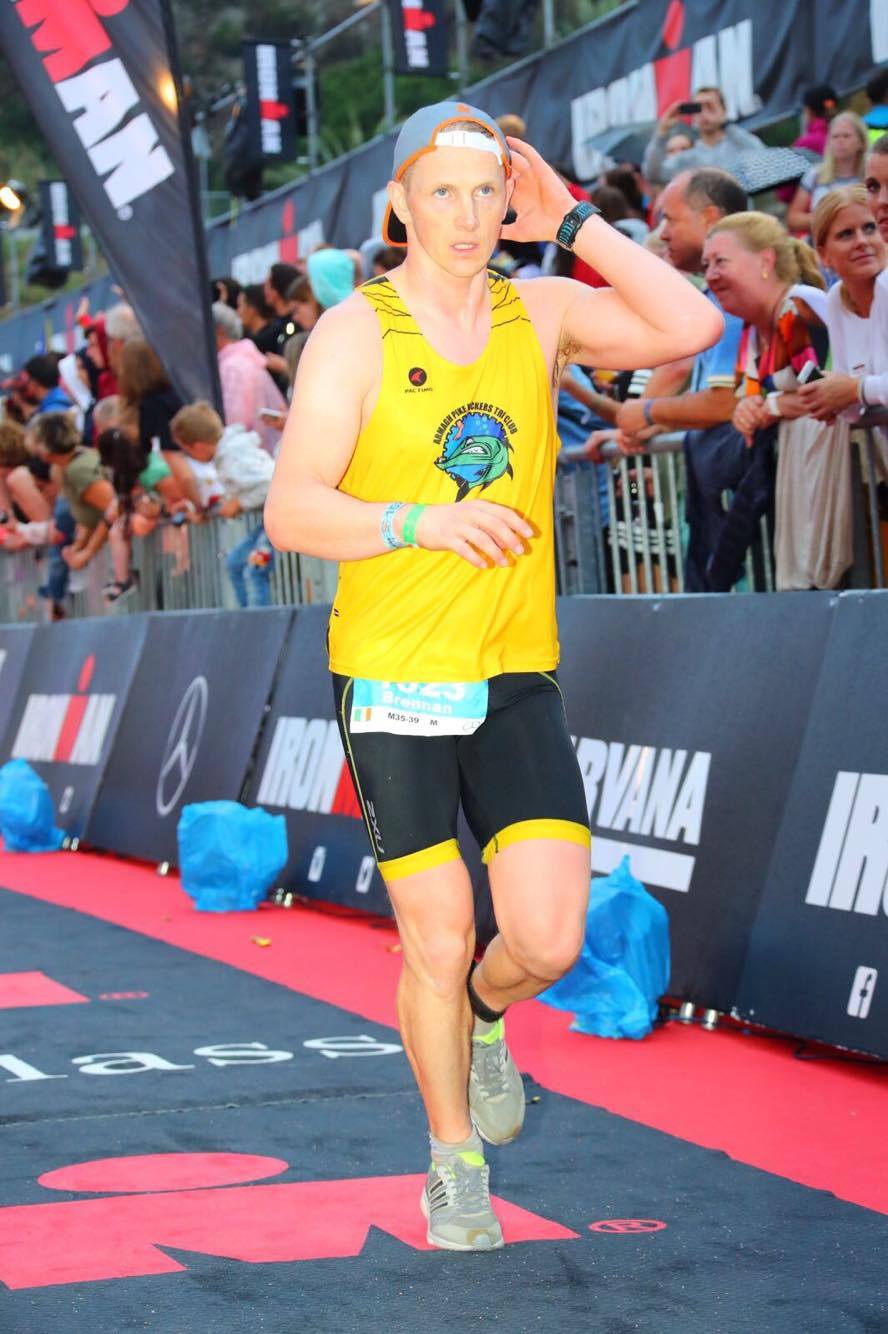 "I like running but this was different; I was in territory I had never been before. The sky had clouded over which was a big help. The legs actually felt good.
"We had to do three laps of the run route which meant passing the finish line four times which was tough. I had four hours in my head for the run. The first 15 miles I felt reasonably okay but I knew the suffering was coming and it did by mile 17.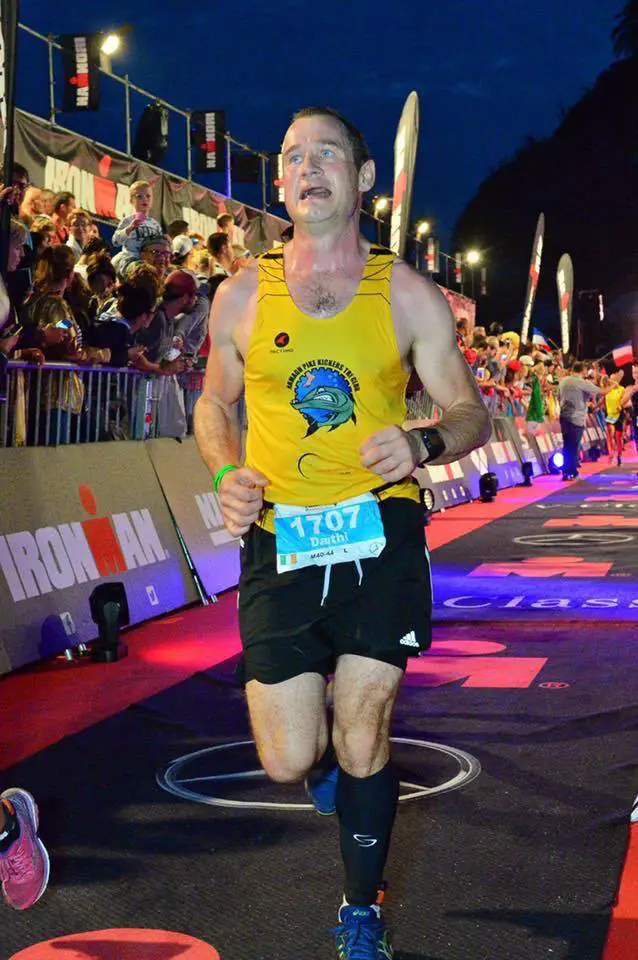 "Everything was starting to hurt; legs, head, stomach, plus the body is telling you it's had enough. Small things like people calling out your name on your bib number was meaning so much. It also started raining which was very welcome. I remember another Irish fella saying 'let's see the Spanish suffer now!'
"Plus seeing other Pikekickers coming the opposite direction was a real comfort. Twenty-two miles is where you are depending on the mental side to get you through and also passing that Pikekicker support.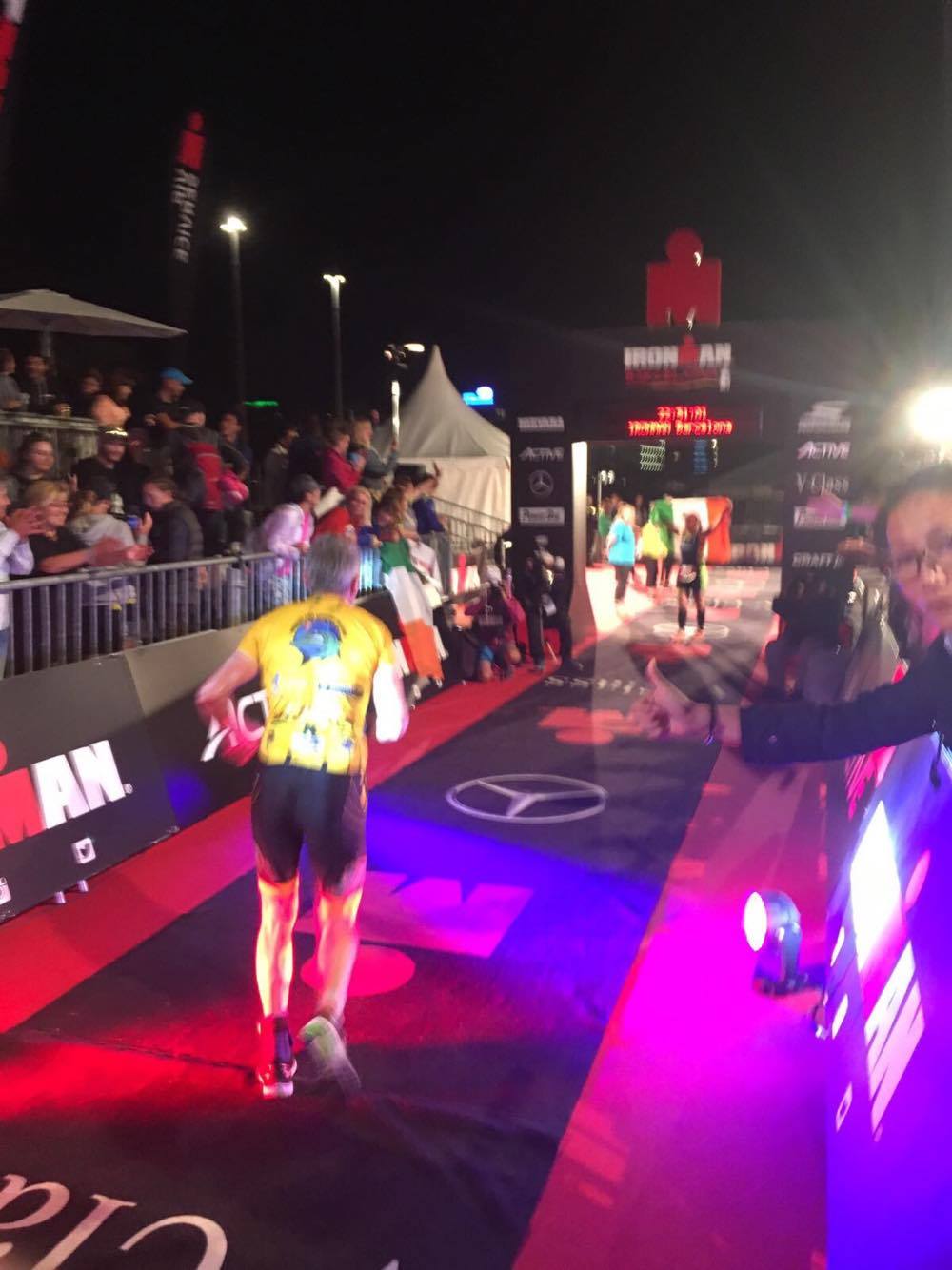 "But I did eventually get to that red carpet. It was a feeling I can't describe; very emotional, especially when I spotted my wife Martina. I heard the words you are an Ironman and that was the journey complete.
"I got into the tent, got some food, which I couldn't eat, and sat down with the other Pikekicker heroes.
"I'm not going to lie but we all sat and cried. But we soon come around and started to realise that we had all done it. That is my experience; each person describes it different but in the end, we are all Ironmen and woman, no one can take that away from us. We got what we came for. To get 11 from the club over the finish line is a huge success."
The times:
Adam Coulter. 10.20. The first Pikekicker home. Wasn't expected to come through first but prove everybody wrong with an amazing time.
Richard Brennan. 10.23. Got himself in very good shape had to work hard on his swim in training and it paid off.
David Strain. 10.37. Has been the strongest biker the past year. Had improved his running for this event.
Sean Mc Sorley. 10.42. Basically learnt to swim from scratch a couple of years ago. Has made himself into a serious triathlete. Hammered his PB from last year's Ironman.
Declan Gordon. 10.56. Made major improvements to his bike and running and lost a lot of weight to smash his time in Ironman last year.
Gerard Mc Gee. 10.57. The newest man to triathlon. Had to improve his swimming very quickly. Put In a solid performance.
Barry Lynch. 11.15.
Paul Donnelly. 11.24. The club chairman. Made big improvements on his bike and swimming. Always had plenty to say. The Joker!
Daithi Conlon. 11.27. Always smiling. Had a superb bike. Went through the pain barrier in the run by losing a few toenails.
Estelle Johnston. 11.36. The first ever Pikekicker Iron Woman is an example to others with a solid performance. Specially after breaking a bone in her thumb during the year.
Selywn Doran. 14.31. Another of our new members. Was competing in the 60-64 age an absolute inspiration.
The girls then got their moment to shine on the Iron Girl run which was 5.8K on the Sunday. The boys then could slightly repay them for the support they gave us all day on the Saturday. Plus, Our little mascot Harry Strain did the Iron Kids run as well as keeping us all entertained through the week.
We are all home in one piece. You will see plenty of Ironman t-shirts and tattoo's about. Some will go again some will just stick to the shorter triathlon. But you will see many more Ironmen in the next few years come from Armagh. Especially in bright yellow and black tri suits.
We all would like to thank everyone for their support.
Sign Up To Our Newsletter