A young Armagh mother has spoken of her anger after her young son's pet cat was snared in a hunting trap earlier this week.
The mother-of-two was alerted to the distressing scene in the Drumarg area of Armagh on Monday.
A neighbour came to the door to say their pet cat Twinkles was caught in a metal device, writhing in pain.
It transpired the cat was caught in hunting trap, which appeared to be set up deliberately in an estate where children play freely.
The cat was so desperate to escape the trap that it broke its teeth trying to bite itself free.
Twinkles was brought to the Iveagh Veterinary Practice in Banbridge where it was treated for its horrific injuries.
Speaking to Armagh I, the woman explained what had happened.
"My neighbour came to the door to to tell me that there was something wrong with my cat; that there was something on his paw," she explained.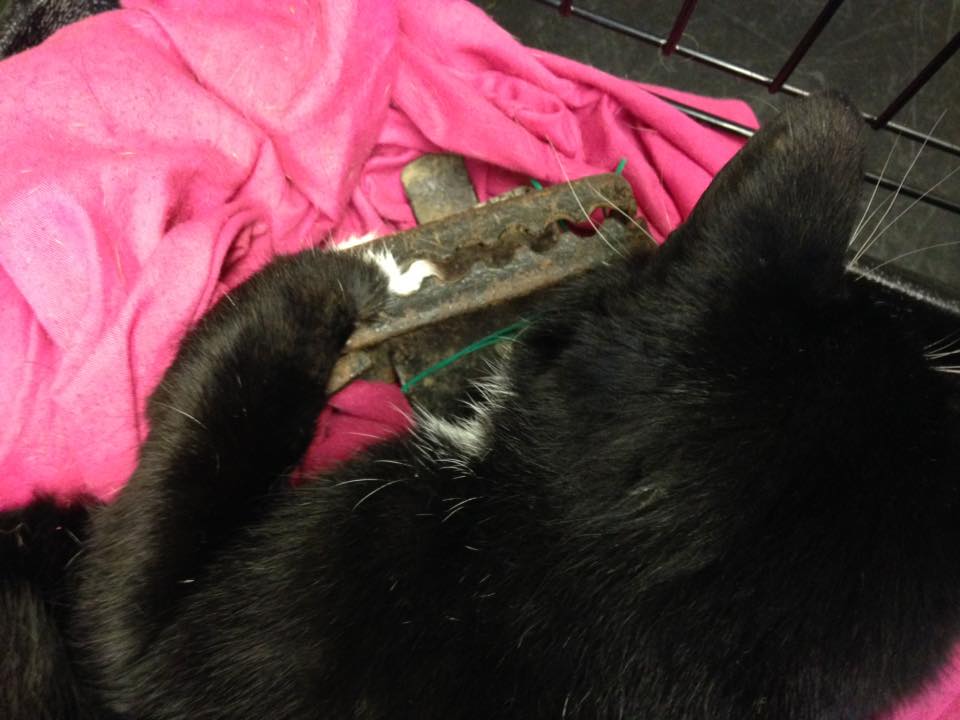 "So I went straight out; the cat was up the entry with the trap stuck on its paw.
"I lifted him and the trap as it was it was very heavy too. I brought him in and just the sight of the poor wee thing, I was so upset and full of anger.
"How did this happen and why would anyone set a trap in their garden when kids run around Drumarg all the time.
"It's just sick! And my young boy saw it – it's his cat – and he was heartbroken. It took me ages to settle him.
"It's just not right what happened. I fear for the kids around my area."
She says she is hopeful of having Twinkles returned home but just wants to make sure he is good and ready before he leaves.
"We're hoping we'll get him back soon. My soon is missing him so much, we all are."
She added:  "I'm so thankful to all the people who have helped Twinkles in his recovery; at least they were able to get the trap off. And to all those who have donated on the JustGiving page, it's great.
"I hand-reared Twinkles after his mother died at birth, so I looked after him and feed him ever couple off hours so he's definitely part of my family and is missed every day."The Doghouse Sanctuary in Banbridge issued an update on Twinkles' condition on Saturday.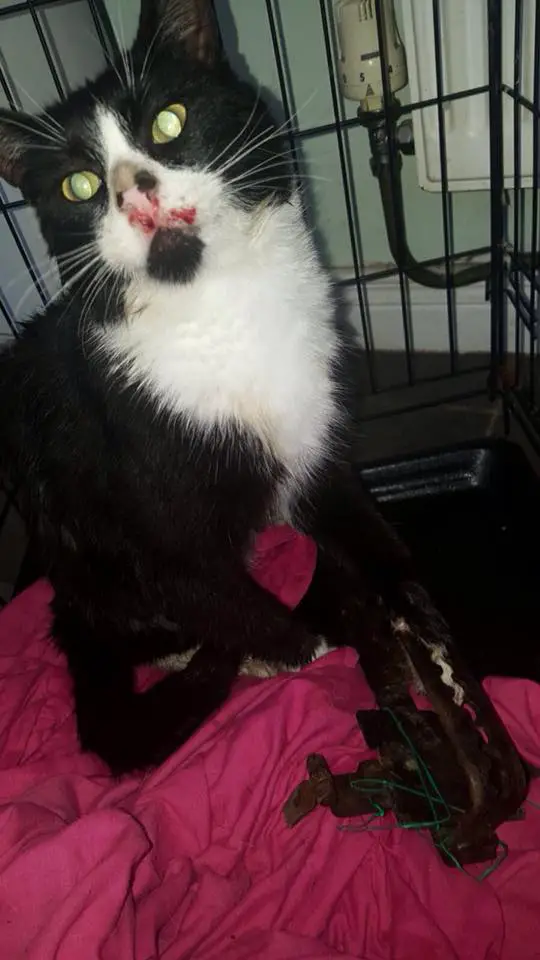 A spokesperson said: "He is now weight bearing on his leg which is great news, but sadly his paw is deformed outward from the trap and still swollen.
"The vets have decided to keep him hospitalised to continue his treatment and recovery."
The police are also investigating the incident.
Lord Mayor Alderman Gareth Wilson called it "a totally reckless" act.
"To set such a trap in a built up area with kids and of course people's pets running around, it really is mind boggling that anyone would even think about doing this," he said.
He added: "To see the pictures of the cat and its paw jammed in the trap is really horrendous and whilst it is bad enough that a family pet has been the victim, imagine if a young child had stepped in it.
"A trap like that would most likely snap an ankle or worse. A horrendous incident and hopefully the Police can find out who is responsible for this act of cruelty.
"There are strict regulations on the uses of certain hunting traps in Northern Ireland and I expect PSNI will be closely examining this incident."
If you wish to support the veterinary practice, please visit the JustGiving page here.
Sign Up To Our Newsletter