An Armagh mum has hailed the staff at the Royal Belfast Hospital for Sick Children and the 'Angel Wishes' charity as "earth angels" after her three-year-old Frankie was diagnosed with Leukaemia.
Frankie is just a normal three-year old boy. He loved playing with his siblings and is obsessed with dinosaurs.
On August 4, the family – who live close to Navan Fort –  had their world turned upside down when they heard the words no parent wants to hear: "I'm sorry, your son has blood cancer."
Speaking to Armagh I about this "roller-coaster" series of events, Frankie's mum, Michelle Rooney said that Frankie was always "giddy and happy", but a number of weeks ago she noticed a number of bruises around his knees and shins.
"I never thought anything of it because it was summertime and he was always out messing about," she said. "We also went for a walk and after the walk, Frankie lay down on my knee and he was breathing a wee bit more rapid. He had done the same thing in April and his temperature spiked to 42. I took him straight to Craigavon and the hospital sent me home saying it was viral.
"He took a spike in his temperature last Wednesday, then that evening, before bath time I noticed a blue bruise. I knew it wasn't there that day and that he hadn't hurt himself. The next morning I rang the doctor. I went down and actually apologised to the nurses and doctors and said 'look, I'm sorry, I'm probably wasting your time'.
"They noticed that a couple of bruises on his legs had connected into other bruises. They then did blood tests and called us in and told me that Frankie's bloods had come back abnormal and automatically, I went into hysterics.
"The doctor took a second set of bloods, sent them away, and within an hour a consultant came around and said to me: 'I'm sorry to tell you, your son has blood cancer'.
"I just found it so surreal because even in the hospital when we were waiting, Frankie was running around and playing."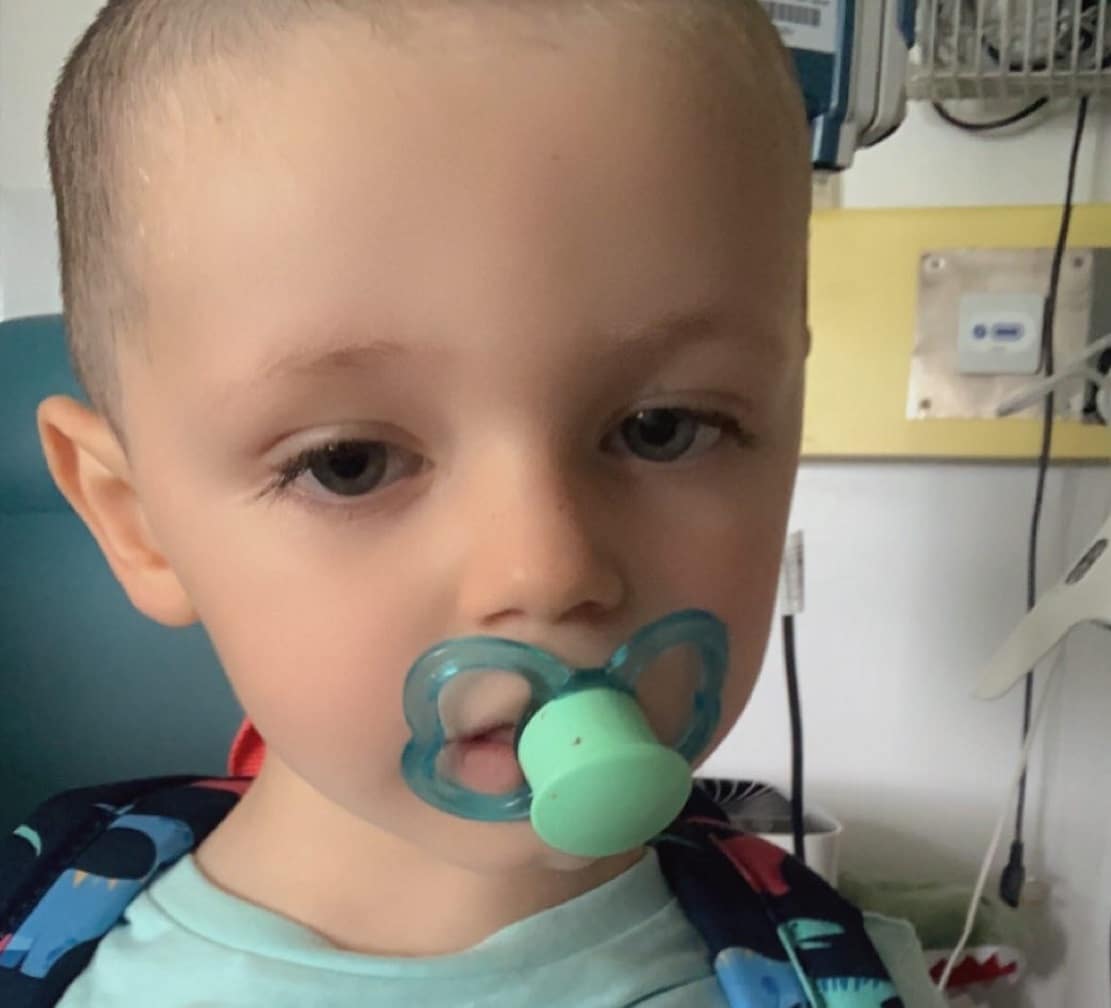 Michelle says that since he went into hospital, Frankie has been "a completely different wee boy".
98% of Frankie's blood has been taken over by cancer and, due to the treatment, he will lose his hair and will have to learn to walk again. Due to the aggressive nature of Leukaemia, Frankie will undergo a three and a half year chemotherapy routine, and as he is only three; he doesn't quite understand what is happening.
Michelle says that she is holding onto the fact that Frankie has the most common form of Leukaemia, meaning that he has a 90% survival rate, although this hasn't made adapting to these new arrangements any easier.
Speaking about Frankie's move into hospital, Michelle admits: "It changes your whole thought process and puts life into perspective.
"The children are getting all the help that they need and this is the best place to be but for the parents, it's like you're taking a slow heart attack.
"Frankie asks about his brothers and sisters every day; he wants to be at home playing with them. He doesn't understand that this is his home for the next wee while," she adds.
Despite his 90% survival rate, Michelle says that the family needs to be careful to avoid infection, as this could make Frankie's condition much worse.
"Chickenpox could kill him," she says. "If he even has a stuffy nose he's straight back into hospital for a week. We actually had a wee dog at home, Frankie's best friend, but we've had to get rid of it as Frankie can't be around animals.
"Most times that children die of leukaemia, it's not actually leukaemia that kills them it's the infections that they catch."
Despite this, Michelle says that the staff looking after Frankie "couldn't do enough for you."
"They're only human and everybody has a bad day but you don't see it in them. They're always so jolly. The nurses completely reassure you. They're the kindest people."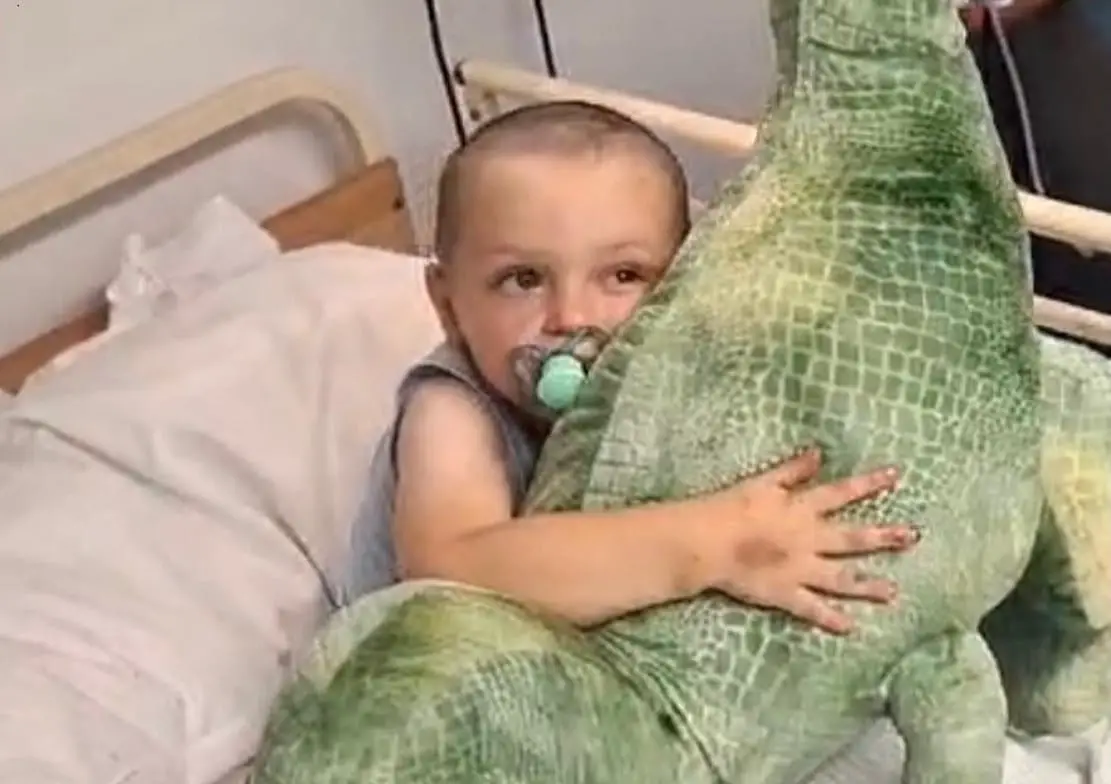 Frankie's family was contacted by 'Angel Wishes', a Northern Ireland based charity set up to support children with cancer.
"The lady from the Angel Trust contacted us and she had lost two of her children. She told us that no matter what time of the day or night it may be, to phone her.
"She's an actual earth-angel," Michelle said. "Just to talk to somebody who, as a mother, knows exactly how you feel. I was beating myself up for days but they told me it's such a sneaky cancer.
"She has been helping every parent on this ward. I asked her how I could repay her and she just told me to get that wee boy better.
"When we beat this, and we will beat it, we will be doing as much as we can to help her raise money for other families," Michelle added.
Michelle says that her family have been taken aback by the "thousands" of messages of support they have been receiving from the community, some of which from people they have never spoken to.
"The prayers are carrying us through," she says.
"We would be quite private people but the more people who know then the more prayers we have."
Michelle finishes with an appeal to all parents to not be afraid to bring their kids to hospital if they feel something is wrong.
"Check your kids. Don't settle for "it's viral".
Sign Up To Our Newsletter