Armagh man Sean 'Dingle' Daly was not only an outstanding footballer and respected coach, but a loving husband, father and a man of strong faith, mourners at his funeral were told.
Mr Daly died peacefully at Hamilton Court Care Home on Monday morning after a long illness. He had been diagnosed with Lewy Body Dementia in 2019.
Fr Peter McAnenly told mourners at Requiem Mass at St Patrick's Cathedral today (Wednesday) that he had attended Mr Daly many times over the past few years.
Extending his condolences to the family, he said that while Mr Daly's death came as a "great loss" to his loved ones, "there is a sense that it's best for him, that he is now finally at peace and has gone to live with God in his heavenly home for ever".
Born in Killeeshil, Co Tyrone, he moved to Armagh when he was a young boy and in later years worked in McKinney's saw mill.
However, Fr McAnenly said most people would remember him from his days as a barman at Devlin's Bar in the Shambles where "he made many wonderful friends".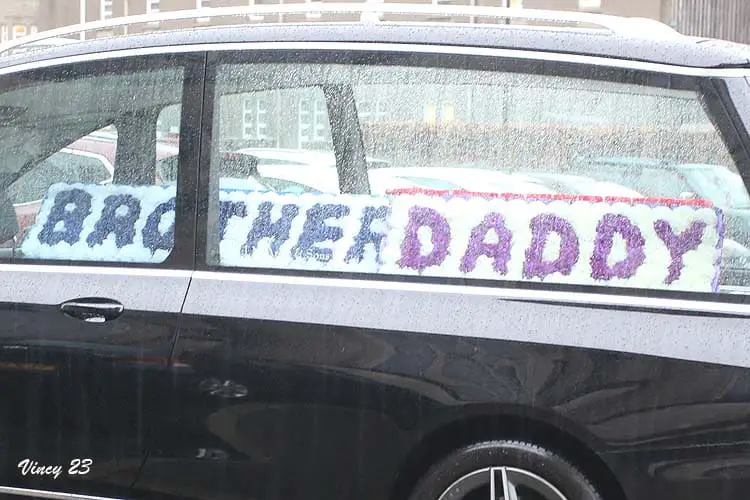 Mr Daly and his beloved wife Patricia, who died two years ago, had five children and five grandchildren.
"I'm sure that in the years to come each of his children will think of the great father that you had … you will think too of the very kind and giving man that he was and how he gave of his best to each of you, his children," said Fr McAnenly.
He said many of those memories will be associated with football, "and over the last couple of days I've heard so many people reminisce about Sean and about the great footballer that he was".
Mr Daly was involved with Armagh Harps for many years and played at county level with both Tyrone and Armagh. He was a member of the Armagh team which played in the All Ireland final in 1977.
He also had a "huge love" for soccer and was a player, manager and coach for Armagh City FC (formerly Milford Everton), where he inspired many young players.
As a player, he made nearly 300 appearances for the club and scored 65 goals, helping the club win the Mid-Ulster First Division title.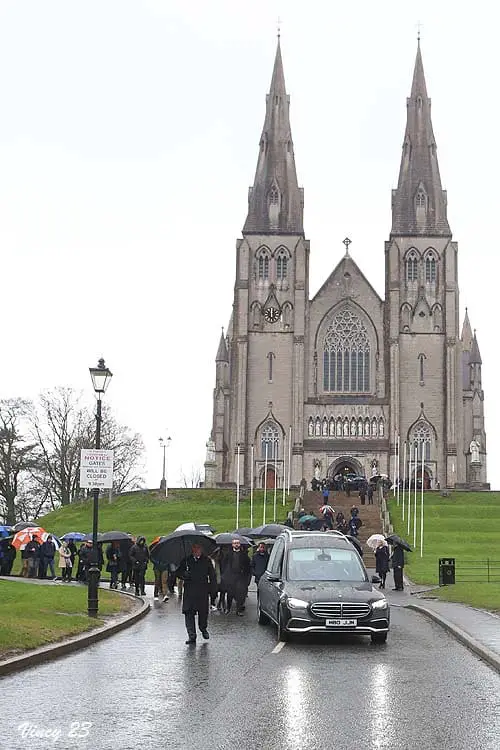 "His passion and love for the game was clear for all to see and it was back in 2013 that he was given Clubman of the Year in recognition of the wonderful ambassador that he was for the club both on and off the field," Fr McAnenly told the congregation.
"I'm sure there's many a person who could tell many stories about the great coach and mentor that he was. And I know that he instilled so much in many and he helped many a young person to have faith and to truly believe in themselves.
"I was chatting a young man yesterday evening and he said that Sean was an incredible coach …and that he was a great man for rewarding his players.
"We pray that he has now reached the ultimate reward … of eternal life with God forever.
"I have no doubt that 'Dingle' Daly will be talked about for years to come and his is a name that will be remembered for time to come."
Fr McAnenly said Mr Daly also had a great interest in horse racing, and loved a "wee flutter on a Saturday and then watching a few races with his friends in Devlin's Bar".
"But many of us will also remember him as being a man of very deep faith. For many years he came here to the nine o'clock mass on a Sunday morning and ..while he had an interest in so many things, he kept in touch with God and his relationship with Him was always a priority."
Burial took place in St Patrick's Cemetery.
Sign Up To Our Newsletter