Archbishop of Eamon Martin has called on prayers for the people of France and all those caught up in last night's carnage in Paris.
With at least 127 confirmed dead, and many more injured, the Archbishop has said thoughts and prayers would be with them.
Special prayers will be said at services this weekend, as it was confirmed Islamic State had claimed responsibility for the six separate attacks.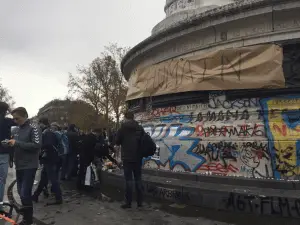 University of Ulster Professor Paddy Gray, from Armagh, was among those caught up in the unfolding events in the French capital last night.
He spoke to Armagh I from the home of Frenchman Robert Normand, where he and a number of others had been taken in for refuge after hiding out in an alleyway.
He spoke of the "crazy scenes" as the terrorists struck, leaving 44 dead in five separate incidents, including two suicide attacks at the Stade du France.
Scores more died when the attackers cut down hostages held attending a rock concert in the Batoclan concert hall.
Professor Gray had been in a bar watching the Republic of Ireland football match when the events began to unfold.
He told Armagh I: "We stood at these traffic lights and didn't know what to do and next thing a van pulled up with police telling us to run so we all ran down one of the streets. We ended up in an entry with four or five other French people and we just sat there for about half an hour in the dark.
"Next thing this gentleman took us into his house. We can't get back to our hotel.
"It was panic, total panic. I didn't now what was going on. I was tweeting, taking photographs and didn't really know what to do until the van was abandoned and told us to run."
Today he, like so many others, have been surveying the scenes of slaughter across the city by the cold and cruel light of day.
He has been tweeting photographs of the scenes of death, showing bullet holes in the windows of a restaurant where Friday evening diners were gunned down.
But Professor Gray has captured too the unity of the French people – which is shared across the world in an outpouring of grief.
People helpless have been leaving tributes to the innocent.
Professor Gray tweeted a photograph showing: "People lighting candles at place de la republique."
Archbishop Eamon Martin, meanwhile, has said people were "shocked and deeply saddened to hear about terror on the streets of Paris".
"The sounds and images of these attacks make for frightening viewing," he said.
"Like myself, many Irish people have relatives or close friends living in Paris and have happy memories of visiting this beautiful city.
"Our thoughts and prayers are with the people of Paris today and we express our solidarity with the French community living here in Ireland."
Archbishop Martin called for all to remember the victims and support those plunged into grief.
"I ask everyone to remember, at Mass and in prayer this weekend, all those who have died and their families," he added.
"We also pray for those injured and all who are caring for them. These horrific events challenge us to pray and work even more earnestly for an end to the evil of terrorism everywhere.
"Each of us by our own thoughts, words and actions is called to spread mercy, love and peace so that the horrors of evil shall never conquer the world. May Saint Denis and Saint Genevieve, patron saints of Paris, intercede for us."
The latest death tolls stands at at least 127 with many more injured.
The first at a bar saw multiple casualties with French news – confirmed by police – reporting automatic gunfire.
At another near the Batoclan music hall; witnesses reported hearing up to 20 shots being fired by two men.
There have also been casualties at the Stade du France, six in total, where France was playing a friendly with Germany. These have included two suicide bombs detonated outside.
A total of 44 died at five of the six locations – these were all areas which were popular with French people and tourists socialising and enjoying the night-life going into a weekend.
The highest death toll – believed to be between 80 and 100 – was at a popular concert hall.
At the Batoclan, where a rock concert had been going on, five explosions were heard, where between 60 and 100 hostages were being held. Automatic gunfire was also been heard.
What followed was carnage as the hostage takers began killing randomly. It is believed over 80 died, including many young people, at the venue where an American band was playing.
Eight attackers are confirmed dead – seven of them in suicide attacks – but it is not yet known if or how many more involved in the planning of these coordinated attacks there may be.
Picture: Professor Paddy Gray via Twitter
Read more new:
Listen: Armagh man tells of 'total panic' in Paris
Armagh man takes refuge in house at dozens killed in Paris attacks
Armagh man at scene of Paris attacks; reports of 140 dead
Sign Up To Our Newsletter