By Chris Jameson
"THE screams of the injured were heart-rending," was how one eye-witness described the scene of the Armagh Railway Disaster which claimed the lives of 88 people back in 1889.
And now a permanent memorial to those killed in the accident is to be constructed in the city.
It will go up, at a location yet to be agreed, ahead of the 125th anniversary, which will be commemorated in 2014.
In addition to the scores killed, hundreds more were injured when a passenger train from Newry collided with another ferrying families for Abbey Street Methodist Church's annual excursion, which was bound for Warrenpoint.
It happened just outside the city, in the area of the Portadown Road, just before 11am on June 12, 1889.
And it still ranks as Europe's fourth largest ever loss of life through rail accident.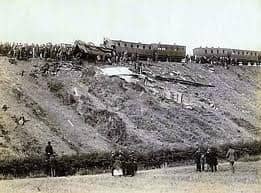 Armagh Council chief executive John Briggs has said possible locations being looked at for the memorial are at the top field of the Mall and in the Palace Grounds.
Mr Briggs has also revealed that the BBC is hoping to produce a programme featuring the Armagh Railway Disaster.
Councillors have agreed that the local authority will take the lead in a project team tasked with establishing the permanent memorial ahead of the 125th anniversary.
That team will include representatives of the Railway Preservation Society, the Mall Trustees, Translink, Abbey Street Methodist Church and the Department for Regional Development.
The memorial to the dead would also carry with it an education element, telling the story of the disaster.
A witness at the scene wrote shortly afterwards: "The screams of the injured were heart-rending. I shall never forget the scene as long as I live."
By 3pm on that hot summer's day – the only relief coming from a short but heavy rain shower – all the dead and injured had been transported back to the city, leaving behind the scores of sightseers amid the wreckage.
In Armagh, the dead bodies were accommodated in the Market House, Tontine Rooms and Railway Station.
Insofar as is possible, the religious affiliations of the deceased which could be ascertained were 34 Church of Ireland, 19 Presbyterian, 18 Methodist and nine Roman Catholic.
The figures clearly indicate the popularity of the Methodist-organised excursion as a community day trip, and add weight to calls for the memorial to be sited in a public place, as all sections suffered and shared in the grief of that fateful day.
Sign Up To Our Newsletter