There is no doubt that the pandemic has had an impact on businesses from all sectors and this has certainly been felt by those in the motor trade.
McKinney Motors, based in Moy, is now very much a household name, but even they have not been immune from the effects of the current economic climate.
Speaking to Armagh I, sales manager David Crawford admitted that sales had been affected but remained positive that consumer confidence would return.
David admitted that sales are down by around 70% compared to pre-pandemic levels but commented that inconsistency made it hard to gauge.
"It has been a massive drop off, but the thing is there is no way of knowing how it will do from one week to another. Last week was relatively good for us but that is not to say that next week won't be."
However, despite this drop in car sales witnessed by the dealership, David revealed there has not been a change in the make up of the customer base.
He said: "I don't think it is totally because of people on furlough or a lack of confidence in job security. We are still getting the same level from each group.
"Some of them are working, some of them are not. We provided financial options for all situations. It is the same blend, the same mix. For that 30% the demographics are the exact same."
David used the analogy: "The breakdown of the pie is still the same as it was – it is just a smaller pie."
According to the sales manager, the two biggest issues which have been experienced by the business have been the situation over MOTs and the inability to offer test drives.
McKinney Motors have begun to offer virtual test drives but David said that no matter how good any footage is, people want to put themselves in the driver seat, and try before they buy.
"It has been a big concern," he said. "Not all of our customers are IT savvy or are of an age in which they are not grasping the technology.
"You can buy everything online but a lot of people are not going to buy a car that way. It is one of the biggest investments you make."
David said that the ability to conduct finance options via telephone or having your vehicle delivered to your door are not new innovations.
"We could always do those things, all we are doing is ramming together a load of incentives which were always there. The only thing that is different is we can't talk face to face and you can't drive it."
David stated that gone are the days of test driving vehicles to make sure they are in good condition as confidence in the used car sales market has grown stronger.
"People are not driving it to see if the car is OK or the 'my friend is a mechanic' type thing," he said. "It is because they want to see if it is comfortable, does it suit them and is it big enough, small enough, fast enough."
The second issue which is encountered, once the sale is confirmed, is making sure the vehicle is properly prepared, serviced and with an MOT in place.
David said: "The pandemic is only half the problem. The lifts was the start of the problem. We had TEC – the temporary exemption certificates – at the start of it because they weren't able to offer tests.
"Then the pandemic came along, there was an overlap between it starting and the lifts being prepared. You can't book MOTs. We used to be able to contact the Department of Infrastructure for a TEC but that doesn't seem to be the case now."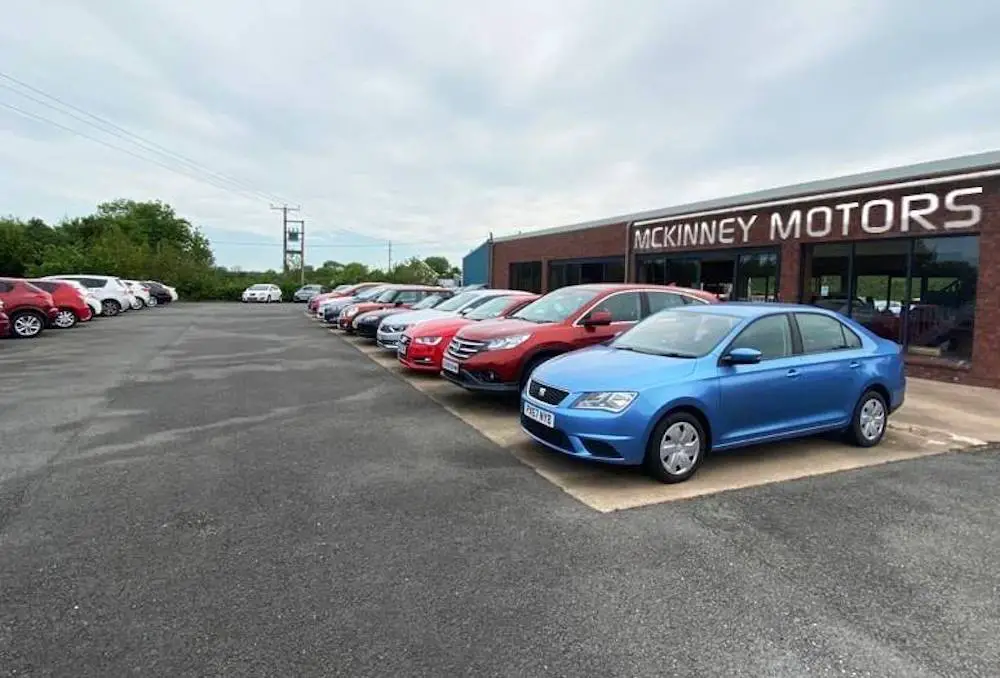 The dealership has also seen issues on the servicing side of the business with David describing many of the vehicles coming to them in "really poor condition".
He said: "Prime example; a lady brought us a car here today. It is a four year old Seat Ibiza which has been reasonably looked after over her ownership.
"It needs £1,057 worth of work due to neglect. People think 'I have an exemption I am OK for a year'. It doesn't mean that. It means the car is not being inspected but you are still liable to keep the car in a roadworthy condition."
David also confirmed that Brexit had an impact on the delivery of parts with many being delayed at customs.
Despite this, he remained confident moving forward that as the economy re-opens consumer confidence will return.
"It is far easier to sell a vehicle when you are face to face helping to push them over the line. It is very hard to do that over telephone," David said.
"The activity about here is marginal compared to what it used to be. This used to be a thriving site, constantly busy, phones constantly ringing, and the life has been sucked out of it."
He added: "We have been here since June and we haven't even been able to have an opening day or a grand unveiling of the premises but to get back to normal would be brilliant.
"Our first day back could be our grand opening day and things like that give you something to look forward to."
Visit the McKinney Motors website here.
Sign Up To Our Newsletter