Say goodbye to "I'm bored" and get ready to soak in some smile-friendly fresh air.
Say goodbye too to all that screentime and get together for fun, fitness and quality time together at Get Moving ABC's family run programme.
This family-friendly programme, specially designed by Athletics NI to introduce the whole family to running, gets the whole bunch exercising together in a fun and achievable way.
This 5-week programme commences on Monday July 19, and will take place every Monday and Wednesday evening for 5 weeks at Lurgan Park, commencing at 6pm.
Family Couch to 3K is a fun variation of the well-known Couch to 5K. Athletics NI has designed a programme that will allow the whole family to enjoy walking, jogging or running, each week improving strength, stamina and technique until you can run 3K.
Why not add in a bit of friendly competition and rivalry with 'Dad vs Mum' or 'Boys vs Girls', or even mix it up with 'Mums and sons' vs 'Dads & Daughters'. Why not get granny, granda, uncles, aunts, cousins to join in…the list is endless. Keep track of your results and let us know who's winning, who's flagging (probably Dad), and who is starting running maybe for the first time at #shakeupsummer2021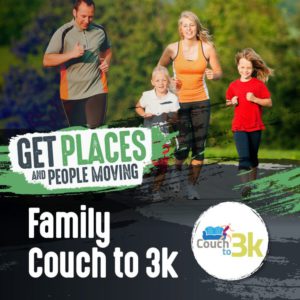 The programme includes:
–  a 5-week programme for all ages and abilities.
– walk, jog or run at your own pace.
– graduation run is on Sunday August 22
– introduction to Lurgan Park Junior parkrun.
– water bottle for every participant.
For more information please contact kelley.rushton@armaghbanbridgecraigavon.gov.uk
Sign Up To Our Newsletter